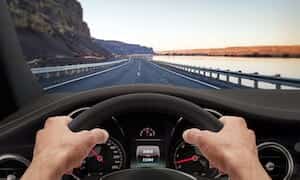 EINSURANCE
There might just be a treasure trove of savings in your auto insurance premiums. If you haven't yet explored discounts for safety features, it might be worth looking into. It varies by state and insurance carrier, but if your car is equipped with certain features, you can save money.
Important Safety Features That Lower Car Insurance
The reason safety feature discounts are given is that they can translate into savings for insurance companies. If you're in an accident in a car that has anti-lock brakes, for instance, you are more likely to cost your insurance provider less when they cover the resulting car damage or bodily injury.
If your car has any of the following features, review your policy and check with your carrier to see if discounts are offered.
1. Anti-Lock Brakes
As our example mentioned above shows, anti-lock brakes can be a money-saver, maybe even a life-saver, for you. These systems, which did away with the need to pump the breaks in a skid, were included with some high-end vehicles first, but in the 1980s they could be found in many new cars. It became a federal requirement to have anti-lock breaks in 2012. Discounts available vary, anywhere from about 5% to 10%.
2. Air Bags
Many car insurance companies provide a discount based on how many air bags your car has. Driver-side air bags alone, air bags on the front seat driver and passenger sides, and side air bags usually get you discounts related to personal injury and medical payments coverage.
3. Automatic Seat Belts
Many cars have seat belts that fasten automatically when the doors lock or the car is started, although they are less common because car manufacturers tend to install air bags instead, and insurers may give discounts for either.
4. Anti-Theft Features
Many insurance companies provide discounts for car alarms, steering wheel locks and other anti-theft features. Stolen vehicle recovery systems often mean an insurance discount, too. These systems, such as LoJack, help law enforcement locate your car if it's been stolen.
5. Daytime Running Headlights
Headlights that run automatically during the day are standard safety features on many cars. Because daytime headlights can help prevent collisions, some insurers provide a discount for them.
6. Recent Innovative Safety Features
The data isn't in yet for many of the features that new cars offer now, so safety feature discounts aren't common. We can probably expect that to change as insurance companies accumulate information that confirms the features will actually save them money. These features include automatic braking, lane-departure warning systems, blind spot detection, rearview cameras and tire-pressure monitoring systems.
If you have any of these safety features find out from your car insurance provider if you qualify for discounts. Keep in mind, though, companies that offer these kinds of discounts may not offer the lowest-cost option for you. Check with the Einsurance car insurance cost comparison tool to look for the coverage that meets your needs best.
https://www.einsurance.com/wp-content/uploads/6-safety-features-that-can-save-you-money-on-car-insurance-thumbnail.jpg
180
300
EINSURANCE
https://www.einsurance.com/wp-content/uploads/Logo.png
EINSURANCE
2023-02-23 11:00:00
2023-02-23 15:35:55
6 Safety Features That Can Save You Money on Car Insurance