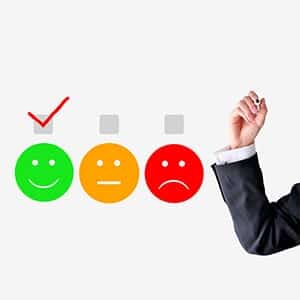 EINSURANCE
You probably grew up hearing (and maybe even believing) that the customer is always right. Problem was, that while many companies and whole industries gave lip service to that concept, they didn't always practice what they preached. Until they started seeing concrete evidence that putting exceptional customer service at the top of the mission statement had a significant positive impact on the bottom line. Until the proliferation of social media made it incredibly easy for one disgruntled customer to tell millions of "friends" about a bad service experience, wreaking measurable damage to corporate reputations and revenues. Now, companies are racing to up their customer service game and lift their Net Promoter Scores (essentially the likelihood that any one customer will recommend a company to a friend or colleague). Customer satisfaction is big business now and you, the consumer, are the ultimate winner. Not only do you get better service, in many cases, you get a superior product at a lower price, too. One case in point, is the findings from the J.D. Power 2014 U&.S. Auto Insurance Study SM.
J.D. Power and Associates has been a global leader in market research since its founding in 1968. It tracks, measures and reports on consumer product and service ratings across a variety of industries, including automobile insurance. Recently, they conducted a study to measure customer satisfaction with auto insurers across five factors: interaction, price, policy offerings, billing and payment, and claims. Here are the key findings, based on responses from 44,661 auto insurance customers collected in March and April of 2014:
The auto insurance customer experience improved significantly across all five factors in 2014, with the largest year-over-year increases in price (+20 points) and billing and payments (+19). The increase in price satisfaction was attributed to a rise in the percentage of customers whose premiums have stayed the same over the past 12 months, and a slight decline in the proportion of those with insurer-initiated increases.
Better communication also played a role. Insurers more often provided notification of pending premium increases through the customers' preferred communication channel.
Interaction, the factor with the largest impact on overall satisfaction, improved by 13 points.
Customer loyalty and advocacy improved. Fifty-one percent of customers said they "definitely will" renew their policy with their current provider, up from 49% in 2013. Equally important, 49% said they "definitely will" recommend their insurer to family and friends, an increase of 1% from 2013.
In aggregate, the two largest insurers (based on amount of written premiums) improved by 10 points in 2014, compared to 2013, while the smallest insurers (those outside of the top 30) improved by 41 points.
Satisfaction varied regionally from a high of 820 points in the Texas and Central regions to a low of 795 in the California and New England regions. Ten of the 11 study regions posted significant double-digit increases in insurer performance in 2014, with the largest improvements seen in the New York region with +29 points and the New England regions with +26.
As Kevin Cacioppo writing for QualityDigest.com notes, in the face of growing competition, particularly for commoditized products like car insurance, companies are shifting their focus from balance sheets. They are, "scrambling to boost customer satisfaction and keep their current customers rather than devoting additional resources to chase potential new customers. The claim that it costs five to eight times as much to get new customers than to hold on to old ones is key understanding the drive toward benchmarking and tracking customer satisfaction."
Shop for auto insurance online, and you'll reap the rewards of this shift, finding competitive quotes with lower car insurance premiums. Become a policyholder and you'll benefit from proactive and more responsive communications between you and your carrier. Stick with your insurer and you'll likely see their gratitude for your loyalty reflected in auto insurance discounts. After all, your insurance company now realizes that a mere 5% increase in loyalty can increase their profits by 25 to 85%.
https://www.einsurance.com/wp-content/uploads/autoinsurancecustomerserviceThumb.jpg
300
300
EINSURANCE
https://www.einsurance.com/wp-content/uploads/Logo.png
EINSURANCE
2014-07-21 00:00:00
2018-11-29 16:32:01
Customers Are Feeling More Love for Auto Insurance Providers