EINSURANCE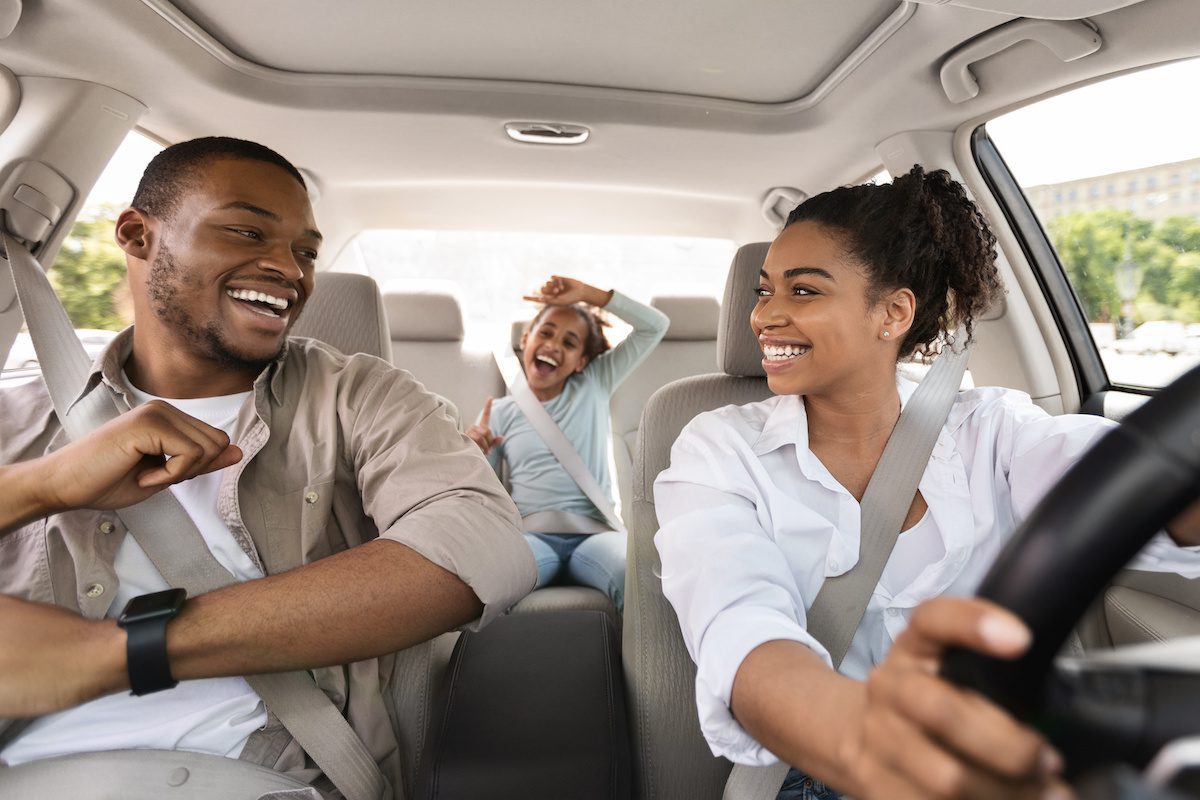 Key Takeaways:
Even with massive supply issues, high gas prices, and a slowdown of new car sales, car manufacturers are still selling millions of cars and full-size trucks in 2022.
The best selling cars in 2022 include several full-size pickup trucks and only one electric vehicle.
There are some ways to save money and lower your auto insurance rates on new vehicles and we give you the details.
Gas prices are high and everyone's worried about a recession, but what's driving the slowdown in new auto sales? Supply issues.
According to Cox Automotive economists, new car sales for 2022 is forecasted to top out at 14.4 million, compared to 15.3 million originally projected. Companies like Honda, Mazda, Buick, and Nissan are seeing a drop in inventory that ranges from 40% to 50% of 2021 inventory.
One of the main issues in the supply chain disruption for the auto industry is a severe shortage of computer chips. It started with COVID-19 factory shut-downs when consumer demand plummeted for cars, but increased for electronics. The shift took a big bite out of available stock and the microchip manufacturers are still trying to catch up. Without computer chips, new car manufacturing comes to a full stop.
However, even with supply issues and gas prices soaring, new vehicle sales for cars and trucks keeps moving with, somewhat surprisingly, the best selling cars in America being full-size pickup trucks. In fact, there is only one electric car in the top 15 – the Tesla Model Y.
The Best Selling Cars in 2022
According to Car and Driver Magazine, new car sales are brisk where inventory is available. That means that people buying new vehicles are also in the market for car insurance and want to find the best coverage for their money. Here are the top 15 best selling cars in America and the average monthly insurance for each.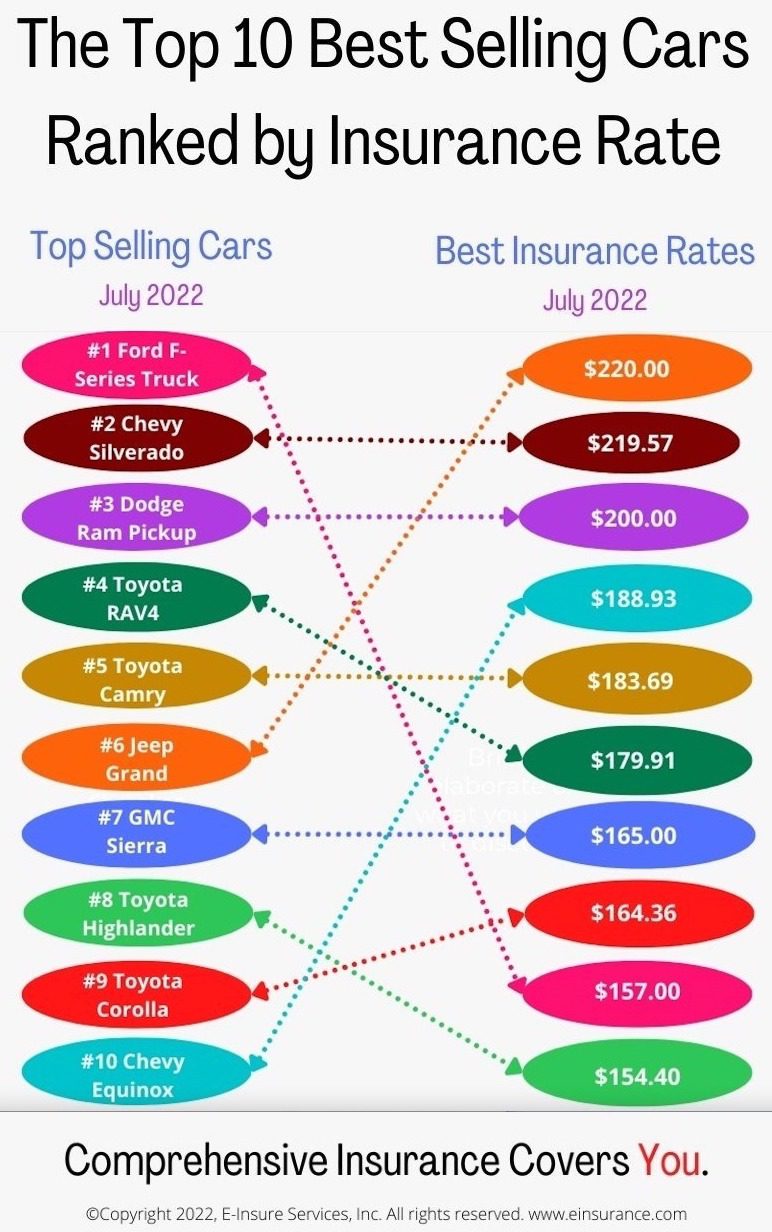 Sourced from finder.com
Interestingly, the top three vehicles in the US right now are full-size pickup trucks each selling over 200K between January and June of 2022. And there's only one electric vehicle, the Tesla Model Y, in the top 15, selling just over 90K in the same period. Also on the list, Toyota, the most trusted car brand in the US according to CarMax, has five different models in the top 15.
So, Let's Talk Auto Insurance Rates
For new cars and trucks, auto insurance rates can be high depending on a variety of components measured and factored in by insurance companies. They look at everything from your age to your financial standing to determine if you are a dependable driver that can be trusted to take care of a new vehicle.
As soon as you decide what type of new vehicle you want to purchase, you can get an auto insurance quotes comparison online at EINSURANCE.com. That way, you can enter the deal knowing your monthly costs in advance.
Since car insurance can be a large investment, it's important to find ways to keep the costs manageable. Let's take a look at how to proactively impact the cost of your new car insurance.
How to Keep Your Insurance Rates as Low as Possible
Insurance on new cars is expensive, but there are ways that you can positively impact your costs. Here we list some of the options to consider when purchasing new car insurance.
Multi-Car and Multi-Policy Discounts
Car insurance companies have devised a discount system as a way to reward behavior and keep customers loyal to their products. Over time, these discounts have successfully evolved into something customers expect and will shop around for — be sure you discuss all discounts available with your insurance agent before purchasing a policy.
Multiple drivers or multiple cars — When you insure multiple vehicles or drivers with the same company, you will often receive a reduced rate.
Multiple policies — Better still, when you bundle your auto and home insurance policies, you get even bigger discounts. According to Forbes, homeowners average discounts up to 13%, condominium owners up to 11%, and renters up to 7%. You can also bundle insurance for RVs, motorcycles, boats, and ATVs.
Auto pay discounts — Most insurance companies offer an auto pay discount. They understand the benefit of knowing their money will be paid automatically. When you sign up for automatic payments, you can receive up to a 5% discount.
Pay-in-full discounts — Your policy term is usually for six months or a year. Many people like to pay monthly and there is a cost or 'service fee' to do that. If you pay in full when the policy is issued, you can save significantly.
Go Paperless discounts — When you sign up to save a tree, you usually get a small discount, and every little bit helps. Plus, most insurance companies have great apps available for smartphones and tablets that let you have electronic access to your policy, billing, and ID cards.
Good student discounts — If you have a student (or are a student) driver between 16 and 25, then most insurance companies offer discounts if you keep a certain grade average (usually a B or B+).
Safe driver discounts — Your driving record and past insurance experience tells an insurance company what type of driver you are – are you safe, cautious, etc. Moving violations and accidents that show up on your driving record are a definite red flag and will cause your rate to be higher. In most states, traffic violations stay on your record for a pre-set period of time, usually around seven years.
Defensive driver and senior driver discounts — Most insurance companies will reward you when you take a defensive driver class (especially good for young, inexperienced drivers) or a senior driver class (for people over 55).
Increase Deductibles
A great way to lower your insurance rates is to increase the deductible you pay when there is a claim. An insurance policy with a $0 deductible is more expensive than one with a $500 or $1,000 deductible.
Just be sure that you have access to the deductible amount in case of an accident. You will need it to file your claim and get the ball rolling on repairs or replacement costs.
Be a Safe Driver and Maintain a Good Driving Record
When people say that a ticket can increase your insurance costs, it's true. Insurance companies monitor driving records for changes, so it's a good idea to drive safe and avoid any moving violations.
If alcohol is involved, the consequences are severe. Your insurance company will raise your rates at a minimum but may also send you a notice of non-renewal, if not outright cancellation. Depending on the state where you live, you may be required to submit an SR22 filing periodically to monitor your insurance coverage.
Do an Annual Review of Insurance Rates
Not only do insurance rates change over time, but your circumstances may change as well. You may have purchased a home or changed jobs to one with less of a commute or had a change in financial status — regardless, it's a good idea to review your insurance costs every year or two to ensure you are paying the best rate.
That is especially easy with today's marketplace where an auto insurance quotes comparison is easily researched with no cost or obligation. We discuss this in more detail below.
Read More: Why You Should Shop for Car Insurance Every 6 Months
Maintain a Strong Credit Report
Your credit report is your calling card in the world of financial services. If you just purchased a new car and used a finance company or leasing company, then your credit report has already been accessed at least once.
Insurance companies also take a look at your credit report to determine what type of risk behavior you practice. Do you pay your bills on time? Are you current on all your bills? Do you have excessive requests from other insurance companies that might indicate a problem or recent cancellation?
Keeping your credit report in good standing (or better) will pay dividends across the board.
Use Anti-Theft Devices
From immobilizers to prevent hot-wiring, to steering wheel locks and smart car alarms, there are tons of ways to arm your car with anti-theft protection. Many new cars come with anti-theft devices built in. Whatever you choose, be sure your insurance company is aware of your precautions — it should positively impact your insurance rates.
Read More: How Better Security Can Lower Insurance Premiums?
Evaluate the Bells and Whistles
You may be paying for roadside assistance, car rental coverage, or other charges you may not need or may be able to find elsewhere. For example, consider AAA or OnStar to replace your roadside assistance; it may be cheaper on a year-over-year basis.
While some of these benefits may be worth paying for, you can often find alternatives for less. It just takes a little research and investigation.
Cut Down on Your Commute
There has never been a better time to work remotely full or at least part time. It will reduce your annual commute miles for insurance purposes, so be sure to update your carrier if your work circumstances have changed. It could save you a couple of percentage points on your annual rate.
Consider Your Location
Insurance can be different from state to state or city to city but can even be different based on the neighborhood you live in due to factors such as crime, accident rates, and even the weather.
You may not be interested in moving your home just to save a couple of bucks, but if you are anticipating a relocation soon, you may want to investigate neighborhoods.
When people research new home sites, they often look into the schools, crime rates, and even changing weather patterns. Reach out to your insurance carrier and see how your options stack up for insurance rates when choosing your new place to live.
Downsize Your Vehicle
Again, you may not be looking to sell your car just to save a dollar, but if you are considering a change, researching auto insurance quotes comparisons online may give you some good planning guidelines.
You can see from our list of the best selling cars in 2022, the bigger trucks and more expensive vehicles tend to be pricier to insure.
Read More: 8 Simple Ways to Save You 90% on Your Car Insurance
Getting an Auto Insurance Quote Online
So, let's talk about getting an auto insurance quote online.
Today, it's never been easier to obtain competitive quotes for all types of insurance. The insurance marketplace is in full swing and most national companies are willing compete in this open format.
While each individual company has their own quote system on their website, you can benefit from a site that offers unbiased, free, no obligation quotes and carrier recommendations. We offer this type of forum to be able to freely research and compare all types of insurance rates.
It works like this:
You enter your basic information into a secure, encrypted quote engine and receive car insurance quotes in seconds. From there, you can talk with the different carriers about the specifics of your circumstances and any potential discounts or savings that you might include.
Once you decide on an insurance company, rate, and policy, you can make your first payment and secure an official start date. Simple and efficient!
So, enjoy that new car or truck and have the peace of mind that you got the best deal available with extraordinarily little legwork needed.
https://www.einsurance.com/wp-content/uploads/auto-insurance-quote-for-the-best-selling-cars.jpeg
800
1200
Kathryn Morstad
https://www.einsurance.com/wp-content/uploads/Logo.png
Kathryn Morstad
2022-07-28 11:00:16
2022-07-21 11:49:30
Auto Insurance Quotes for the Best Selling Cars