EINSURANCE

By most accounts, 2020 will see cannabis as a green business proposition. Still, some growing pains along the way are inevitable as this emerging industry adjusts to changes. What are the cannabis industry trends 2020?
Some of the areas that will be focused on in this year and beyond include:
Products
Legalization
Financing
Cash flow
Profitability
What's on the Legal Horizon?
While the debate about legalizing cannabis at the federal level, states are doing what they can to sort it all out, from states that don't want legalization to those that want both medical and recreational use to be legal in the state. Below is a breakdown of the recreational and medical uses, predicting growth over the years.
Federal Legislation
Statistically, marijuana has never been as popular is it is now. About two thirds of the country want to see federal legalization, and ninety percent approve of medical cannabis. Some experts predict that medical cannabis will be federally legal by 2021. The federal government is expected to de-schedule cannabis and it will no longer be treated as a Schedule 1 drug under the Controlled Substances Act. A controlled substance designation can stand in the way of valuable research.
State Legalization
While waiting to see if there will be federal legislation, many states are moving forward. As of 2020, recreational marijuana is legal in 11 states for adults over the age of 21 while use for medicinal purposes has been legalized in 33 states. Exact rules vary from state to state.
Where cannabis is legal:
Alaska
California
Colorado
Illinois
Maine
Massachusetts
Michigan
Nevada
Oregon
Vermont
Washington
Washington, D.C.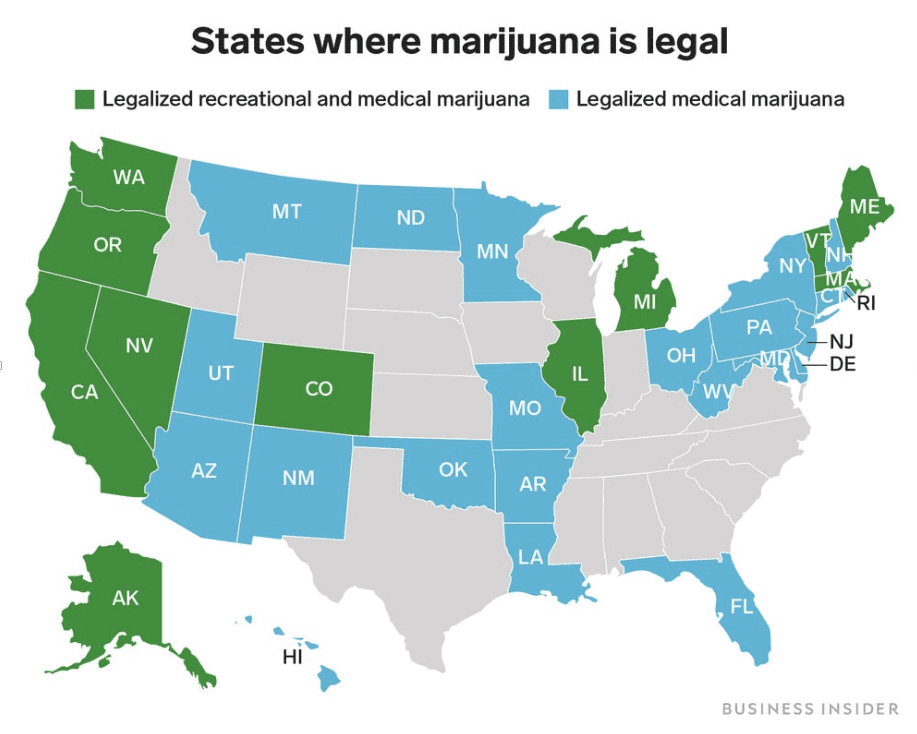 We'll See More Diverse Cannabis Products
As of now, cannabis is available in various forms but that offering is expected to grow. Currently, marijuana can be purchased in the following categories:
Flowers
Edibles
Beverages
Vaporizer cartridges
Concentrates
Tinctures
Topicals
New products and strains are on the way. Beverages are expected to grow in popularity and some companies already in the alcohol industry will start making cannabis-infused beverages. Products with CBD are expected to be sold by typically non-cannabis companies.
The Marijuana Market Will Evolve
As always, change will continue in order to meet new demands. Here are some predictions:
Brands take control of their supply chain. To survive, brands will take control of the product supply chain, by ownership or contract. That could mean that brands without that control will go out of business.
Less business growth and more profits. Cannabis companies will turn from putting growth as a priority and concentrate on creating sustainable, profitable businesses. This could lead to a more stabilized market.
Innovative products will improve the consumer experience. New products will enhance CBD effectiveness. Stackable dosing products, such as tablets, mints, mouth sprays and edibles, which will deliver two to three milligram doses instead of the tradition five to ten milligram doses. This gives customers the option of layer doses to create experiences closer to what they want at the time. There will also be more products with faster onsets (traditional edibles, for example, don't take effect for up to two hours).
Cannabis stocks will grow. Trust-building with investors will be a focus as the market grows. The idea is to convince investors that, more and more, there will be less risk attached to investing in the cannabis industry. We will likely see more transparency in the industry in an effort to attract investors. It will also be a push towards more profitability when cannabis becomes legal at the federal levels.
Stricter regulations will occur. Cannabis companies will face more state regulations. Each time a state legalizes marijuana it will come with that state's rules. FDA and USDA will also try to formulate testing and regulations that protect the consumers.
Research will abound. As things stand right now, needed research has been slow to take off, thanks to cannabis' Schedule 1 designation. When it is taken off the list, researchers will have more freedom to conduct helpful research. Studies are already showing possible medical benefits.

It has been shown that some compounds in marijuana may have cancer-fighting assets.
Scientists will be looking into synthesizing new compounds which could have stronger cancer anti-cancer effects than the plant's natural components.
CBD may have antibiotic-resistant qualities. Bacteria do not seem to be resistant to CBD even over time.
In the wake of the vaping crisis, cannabis businesses are already learning what the issues are such as additives, heavy metals and combustibility. Safety is becoming a priority. States are starting to legislate for adult use only.

Banking will be easier for cannabis-related businesses. Even with federal banking limitations in place, companies that process payments will find ways to allow sellers to accept credit cards. Both transactions and record keeping will be easier.
Cannabis Industry Trends and Statistics
As previously noted, statistics show that about two thirds of adults in the U.S. want marijuana to be legalized and ninety percent believe medical cannabis use should be legal. Other statistics include:
The favored form of cannabis to purchase is between 40 and 82 percent, depending on the selling dispensary.
Medical marijuana is the largest segment in U.S. cannabis sales in 2016, with a valuation of $100.3 billion by 2025.
76% of physicians support medical marijuana.
Taxation of cannabis sales is bringing in sizable funds, in particular states and not so much in others.
Leafly.com reports that about 300,000 jobs were created in the industry in 2018.
Women fill about 36% of regulated cannabis businesses' executive positions; women only make up about 15% of these positions in other industries.
Regulated dispensaries report an average of $3 million in annual revenue.
Because the cannabis industry trends 2020 present a variety of regulatory and business issues, cannabis insurance coverage is recommended for protection. To learn more and find out if your marijuana-related business needs cannabis insurance, see this helpful EINSURANCE video and article.
https://www.einsurance.com/wp-content/uploads/cannabis-industry-trends-2020.jpeg
800
1200
EINSURANCE
https://www.einsurance.com/wp-content/uploads/Logo.png
EINSURANCE
2020-02-25 11:00:57
2022-10-26 15:32:23
Cannabis Industry Trends 2020