EINSURANCE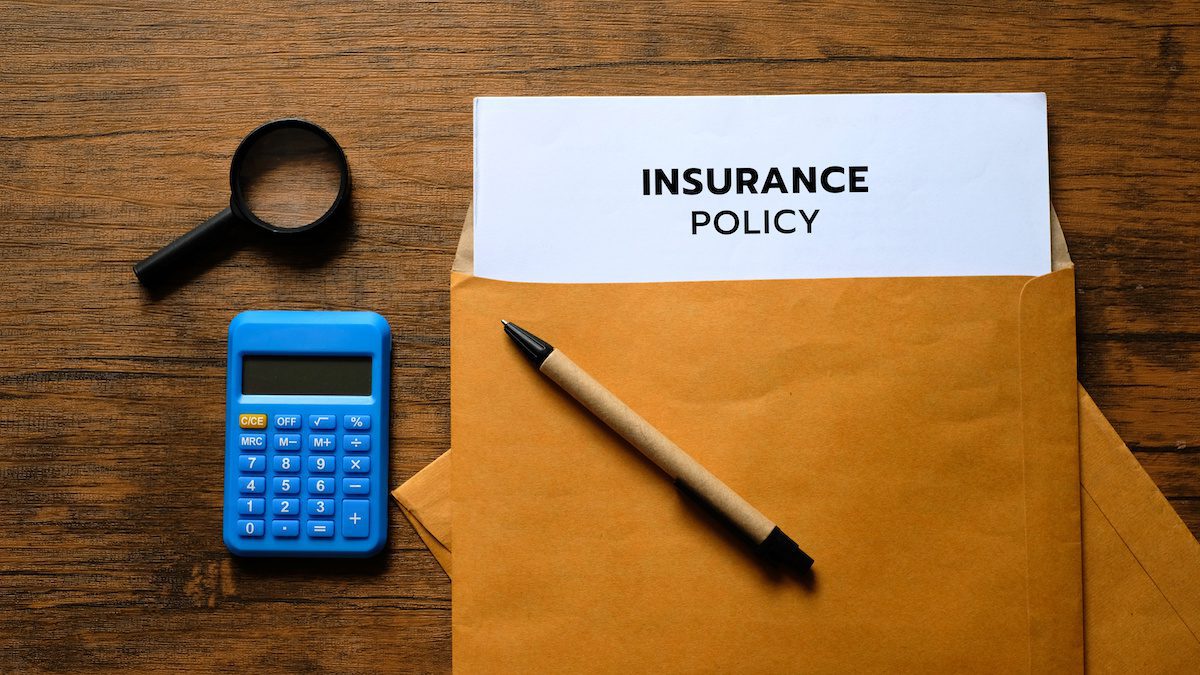 All You Need to Know About Your Car Insurance Policy Number
Key Takeaways:
Every car insurance policy has an identifying number assigned by the insurance company and used to identify you and the vehicle you are insuring.
If you lose your car insurance card, you may need to find your car insurance policy number through your virtual card on the company's smartphone app until a replacement can be obtained.
Only in Connecticut, New Mexico, and Washington, D.C., is a copy or virtual card not considered adequate proof of insurance if you are in an accident or need to provide physical evidence of coverage.
You may have seen an eight to 10-digit number on your car insurance policy documents or on your insurance card and wondered what it's for? That is your car insurance policy number and it's used by your insurance company to identify you and the vehicle they are insuring.
Whether you carry a physical car insurance card or opt to use the virtual car insurance card on your insurance company app, you should find your policy number prominently displayed.
If you insure multiple vehicles with the same company, your insurance card may list all vehicles under one car insurance policy number or you may have an individual card for each vehicle that has your policy number followed by an identifying digit, e.g., 0000000000-1, 0000000000-2 and so on.
Car Insurance Policy Number Example
While all insurance companies' structure and format their cards differently, most proof of insurance identification cards typically have the following information:
The insurance company's name, address, and telephone number, plus an email address.
Your insurance agent's name and telephone number.
Your name and address (although more companies are issuing a card without your address to keep in your vehicle – no address protects your personal property should your car be burglarized, and the contents stolen. At least the thief won't know where you live).
Your car insurance policy number.
A claims adjustment phone number – this is the number to call if you are in an accident and need immediate help or advice. These numbers are generally available on a 24/7/365 basis.
Details about your car such as:

Make and model of the vehicle
Car year of manufacture
A vehicle identifying number like your auto VIN number (usually 16 alphanumeric digits).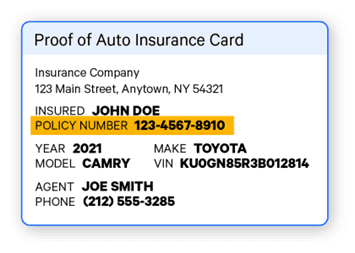 Source:  Value Penguin
Is There a Difference Between a Car Insurance Policy Number and a Customer Number?
It depends. Sometimes a company may use the policy number interchangeably as a customer number if you have a single policy. However, many of the large national insurance companies assign the policy number to the item being insured and assign a unique customer (or account) number to you for all of your business products.
This is especially helpful to the company if you have a number of policies, e.g., multiple vehicles, home insurance, or life insurance. You will see the customer number on invoices, declaration pages, and policy documents in addition to your car insurance policy number.
What if I Lose My Insurance Card?
If you lose your physical card, your insurance company can expedite a replacement simply by you calling their customer service number. With your name, they should be able to complete a car insurance policy number search and quickly get a new card to you in the mail.
In the meantime, you can rely on your virtual card available through their app or you may be able to print one from the website under the policy documents section.
Either solution is adequate until your new card is received except in Connecticut, Washington, D.C., or New Mexico. In those states, you will want to carry a hard copy of the card until your replacement card is received.
In the other 47 states, many people choose to use the virtual card all the time and that works perfectly fine unless you are in a location without cell service. A prudent choice would be to always carry a hard copy just in case you can't access your virtual card.
If, for some reason, you don't have access to your virtual card, you can try looking at one of these documents to find your car insurance policy number:
Check your premium bills — Your statements should have your policy number along with the customer number printed on them.
Review your insurance declarations page — the declarations page will usually be the first or second page on your car insurance policy itself and is a summary of your policy coverages, including deductibles, limit numbers for the maximums you have coverage for on specific categories like bodily injury coverage, property damage coverage, etc. (like 100/100/300). And it will have your policy number listed at the top.
Contact your insurance agent who sold you the policy — your agent should be able to look up your policy with no trouble.
When Do I Need My Car Insurance Policy Number?
In most circumstances, you probably don't give much thought to your car insurance policy number. It's one of those things that isn't top of mind until you need it.
Typically, there are four times when you may need your policy number and insurance card, including:
1. When you're involved in a car accident.
No one ever wants to be involved in a car accident, but, unfortunately, they do sometimes occur. When that happens, you will want to exchange information with the other driver or drivers.
You will also want to provide information to the police responding to the scene of the accident. Having a police report with your identifying information attached will be a big help if the claim is challenged or goes to court.
2. When you are pulled over by the police.
Depending on your state's mandatory insurance coverage laws, any encounter with law enforcement will involve you (or whom ever is driving) to produce three things:  a valid driver's license, a current registration for the vehicle, and an in-force and valid insurance card.
Without those three things, you can be a serious risk of legal action, especially if you are also involved in an accident or have been drinking.
3. If you need to contact your insurance provider.
Whenever you contact your insurance agent or company, they will typically ask for your car insurance policy number. Luckily, if you don't know the number or don't have your card available, the insurance company can look up your information using your name or even your social security number.
4. When you are renewing your driver's license.
This again depends on your state, but a number of states require proof of insurance to register a car or to schedule a driving test. Makes sense — your state wants to be sure you are adhering to the law and will deny your registration if you can't produce proof.
If you aren't sure about your state's requirements for insurance and producing proof of insurance, check out these Auto Insurance State Guides.
When Should I be Sure to Get Someone Else's Car Insurance Policy Number?
Definitely if you are in a car accident!
Once you are assured that everyone is safe or medical care is being provided, if necessary, it's time to exchange information. It doesn't matter who is at fault, each party needs the other's information so that an equitable solution can be found through the claims process.
By offering your insurance card, you are demonstrating good faith and that can go a long way in a stressful situation like a car accident.
Rather than trying to write down all the details which can be difficult in these situations, take a picture of the front and back of the card. That way, you won't be missing any information later or find that you have written it down incorrectly. You and your insurance company will be glad you have the full details when you call to initiate a claim.
What Other Details Should I Get Following an Accident?
Since insurance cards have a lot of good information, definitely start there. But also remember to get (if possible), the insured's phone number, be sure to write that down separately — both landline and mobile if available.
Also get their driver's license number and license plate number to help further identify the other driver if needed.
What If I Don't Get All the Right Information?
It can happen, right? There's a lot going on and it can be extremely stressful. Perhaps the other driver is combative and not willing to cooperate. Whatever the reason, you may walk away from the accident without the needed information, like the policy number.
In that case, you can always try contacting the driver by phone. Perhaps they are more willing to cooperate after the fact. If that fails, go to the police station, and request a copy of the accident report. You are legally entitled to any police report that has your name attached. That report should have the other person's insurance information listed, so you can submit that information to your insurance company.
As a last-ditch effort, you may call the major insurance companies to see if they insure the person — the top 10 national auto insurance companies insure 72% of all drivers, so there is a better than average chance you can find them.
Try this comparison table if you have the policy number, but don't know what insurance company — here are some general guidelines by eight of the top carriers:
Car Insurance Policy Numbers Configuration Chart
| | | |
| --- | --- | --- |
| Allstate | 9 digits in increments of 3 | 999 999 999 |
| GEICO | 10 digits | 9999999999 |
| Liberty Mutual | 3 letters, dash, 3 digits, dash, 6 digits, dash, 2 digits | AAA-999-999999-99 |
| Nationwide | 4 digits, 1 letter, space, 6 digits | 9999A 999999 |
| Progressive | 9 digits or 8 digits, dash, 1 digit | 999999999 or 99999999-9 |
| Safeco | 1 letter, 7 to 8 digits | A9999999 |
| Travelers | 9 digits, space, 3 digits, space, 1 digit | 999999999 999 9 |
| USAA | USAA Account #, Letter U, space, 8-10 digits | 99999 99 99U 99999999 |
Remember, if the accident was not your fault, but you can't identify the other person, you may be responsible for damages to your car which can get expensive with the deductible and the chance that your insurance premiums will go up.
In the Final Analysis
A car insurance policy number is the definitive way for your insurance company to identify you and your vehicle. It may be your customer number as well, but often large insurance companies have two separate numbers with the customer number identifying you as the customer and the policy number identifying the vehicle they are insuring.
If you are insuring multiple vehicles or insure your home and auto through the same insurance company, the policy numbers easily identify each product.
In the event of an accident, you will want to be able to produce your insurance card and your car insurance policy number to demonstrate coverage and to further facilitate claims adjudication once the claim has been filed.
Looking for Auto Insurance Quotes?
Contact einsurance.com if you want to compare insurance quotes from top national insurance providers for your car, truck, boat, RV, motorcycle, or for your business or home insurance needs. Comparing car insurance quotes is fast and easy and you get the best rates in the industry to choose from — give it a try today.
https://www.einsurance.com/wp-content/uploads/car-insurance-policy-number.jpeg
675
1200
Kathryn Morstad
https://www.einsurance.com/wp-content/uploads/Logo.png
Kathryn Morstad
2022-10-20 11:00:32
2022-10-18 10:57:22
Car Insurance Policy Number – All You Need to Know