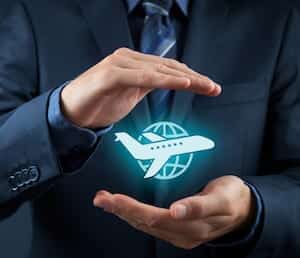 EINSURANCE
Unexpected injury or illness while traveling can throw a wrench into your plans, but your health policy from back home will take care of you, right? Not necessarily. In fact, whether you're traveling abroad or in another state, getting the medical assistance you need can be difficult and expensive, because your regular health plan may not be accepted.
When making plans for travel, talk to your health insurance carrier to find out what your plan will and will not cover. Every health insurance plan is different. Some insurers offer overseas health insurance. Domestically, many health plan networks make provisions for getting out-of-area emergency care and prescription refills. Overseas, however, most plans provide coverage within the boundaries of the U.S., that's it. Some will include travel coverage, but only for emergencies. Medicare doesn't cover health care costs while you are traveling outside the U.S.
Find out what your health plan will and won't pay for when you travel. Ask questions about:
How the plan handles routine care, as opposed to emergencies. Many will require you to pay out-of-pocket and then reimburse you when you return home.
Whether or not your plan covers emergencies abroad.
If your plan covers the expense of flying you back home in the event of serious illness.
Are pre-authorizations required before emergency treatment can begin in a different country.
Travel Insurance
Most travel insurance comes as a comprehensive coverage package that includes a minimum of medical, travel interruption and cancellation, baggage, evacuation and flight insurance. Although costs vary, most travel insurance costs from 5 to 12 percent of the total trip, with prices going up with age and low or free for children.
Types of Medical Travel Insurance
There are two basic kinds of travel coverage:
Secondary – Your travel policy will pay for whatever your health plan doesn't, such as deductibles.
Primary – Takes care of costs up to a specified limit.
How Medical Care is Paid For
Keep in mind that a travel insurer will probably work directly with hospitals to pay your expenses if it's an emergency situation. Routine care, however, will likely cost you up front; you will then take your documentation home and submit it to your health insurance plan for reimbursement.
Travel insurance's evacuation insurance covers transporting to obtain treatment due to an emergency, which is usually not provided for in a standard health care plan. Getting you all the way home might be covered if it's considered medically necessary.
Travel Insurance Exemptions
Before traveling, understand your medical travel insurance exemptions. For instance, you may not be covered by the medical and evacuation policies if you are injured doing something considered dangerous, such as bungee jumping, mountain climbing, scuba diving or skiing.
As with all types of insurance, you should shop and compare before purchasing travel insurance. Ask questions, compare coverage limits and exemptions and get several estimates.  Get free quotes and learn as much as you can about travel insurance.



https://www.einsurance.com/wp-content/uploads/do-i-need-travel-insurance-if-i-have-health-insurance-thumbnail.jpg
258
300
EINSURANCE
https://www.einsurance.com/wp-content/uploads/Logo.png
EINSURANCE
2017-07-20 00:00:00
2022-06-08 15:27:37
Do I Really Need Medical Travel Insurance if I Already Have Health Insurance?