EINSURANCE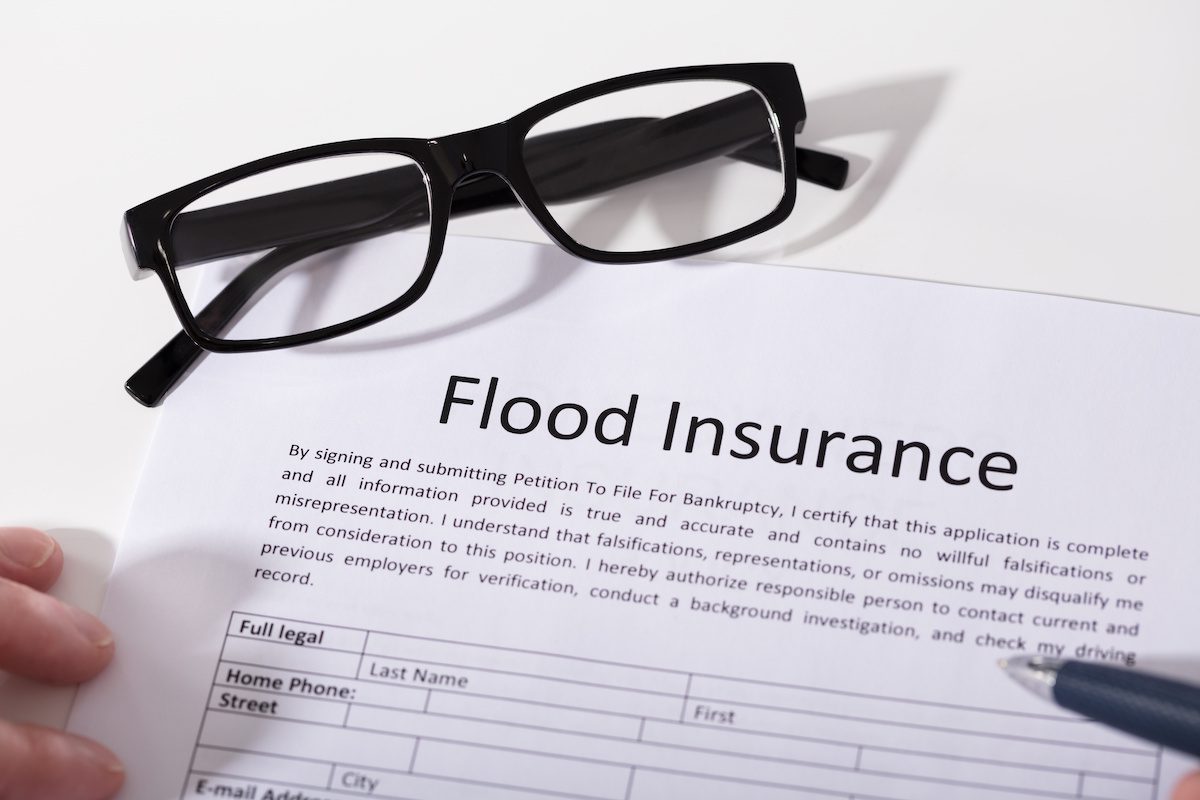 You're wondering if car insurance covers flood damage to your vehicle. And, like most questions related to auto insurance, the answer is somewhat complicated. It depends on the type of policy you buy.
Today, our team of licensed insurance agents is here to explain when flood damage and water damage are covered by an auto insurance policy.
If you're in a hurry, know that a full coverage auto policy WILL almost always cover flood damage. And a liability-only policy WILL NOT cover flood damage.
Of course, there are more specific points and nuances to this question, so let's dig into it a little deeper. Below, we'll discuss points like:
A Liability-Only Policy Will Never Cover Flood Damage
No liability-only policy — the "bare minimum" policy required by your state — will cover any kind of flood or water damage. These types of auto policies only exist to protect you financially from damage you might cause to other people or their property.
Depending on your state, you might hear these policies described as:
Liability-only policies
PLPD policies
Minimum auto insurance policies
They help to pay for damage you might cause to other vehicles, structures, fences, people and animals. But they will NOT pay for:
Rain or hail damage to parked car
Falling trees or tree limbs
Regional flooding associated with hurricanes or tropical storms
So, which kind of car insurance do you need if you wish for flood damage to be a covered peril? You need a full coverage policy, which includes comprehensive insurance.
What is Comprehensive Coverage?
Comprehensive coverage protects your vehicle from perils other than collision.
For instance, comprehensive coverage will help pay for damages caused by:
Hail
Lightning strike
Heavy rain
Regional flooding
Falling trees
Theft
A garage that burns down
Collision coverage is different. It pays for damages to your vehicle caused by any kind of collision — or crash — whether you collide with a structure, another vehicle, or something else.
Now, let's explore a few ways your auto insurance might come into play when flooding or water damage are an issue.
Does Car Insurance Cover Damage Caused by Regional Flooding?
A full coverage policy, one that includes comprehensive coverage, will cover damage caused by regional flooding. Issues like tropical storms, hurricane flooding, thunderstorms and lightning strikes are all covered.
Should I Buy a Full Coverage Auto Insurance Policy if I'm Concerned About Flood Damage?
If you live in a flood zone, or if you're worried about flood damage to your vehicle, you will probably sleep better at night with a full coverage policy.
For instance, if you live in Jacksonville, FL you face an annual hurricane season. It's wise to maintain a full coverage auto insurance policy, even if you own your vehicle outright and don't make a car payment. You'll rest easy knowing your vehicle is covered in case of a flood or other damage caused by hurricane winds, fallen tree limbs, flying debris or torrential rainfall.
Also, know that your lienholder may require you to maintain a full coverage auto policy while you're making payments on your car. This protects the bank, credit union or other financial institution from damage caused by hurricanes, floods, theft and so on. Of course, you'll still be required to pay a deductible when making a claim.
Understanding Water Damage Car Insurance Claims
We'll use a few stories here to illustrate water damage car insurance claims. First, let's imagine a young, married man named Darryl. He lives in Miami, FL and owns a few vehicles.
Darryl and the Hurricane Flood Damage
Darryl's daily driver is an older Honda Accord, valued at $3,000, which he owns outright. And he makes payments on a brand-new minivan for the family, he still owes about $20,000 on the van, but it's worth about $30,000.
Darryl has full coverage policies for both vehicles, with a deductible of $1,000 on each policy.
A huge hurricane strikes Miami. Darryl's entire neighborhood is flooded with two feet of water. Both vehicles are soaked through. The interior of both vehicles is ruined, and all the computers and fine technology in the new minivan is trashed.
Darryl contacts his auto insurance provider to place a claim for both vehicles. We'll imagine it's a major insurance company, Farmers Insurance.
Farmers Insurance is aware of the hurricane, they've been taking claims calls all day. They ask Darryl for some information, such as:
The policy numbers
Vehicle Identification Numbers (VINs) for both vehicles
Cell phone photos and descriptions of the damage
Within a few days, a claims adjuster visits Darryl to access the damage. The adjuster decides that both vehicles must be "totaled." In other words, it would cost more to fix the vehicles than what they're worth. Both autos are towed away to a junk yard.
The insurance claims adjuster will now write a few checks. First, he writes a check for the old Accord, for $2,000. (That's the value of the vehicle less the $1,000 deductible.)
Then, Farmers Insurance pays off the $20,000 balance on the minivan and cuts another check for Darryl of $9,000. (That's what's due to Darryl, after his $1,000 deductible is paid.)
Thanks to his insurance policies, Darryl now has $11,000 to spend as he sees fit. He can put that money down on a new vehicle, buy some used cars, or lease a vehicle.
Next, let's think about Darryl's neighbor, Stacey.
Stacey Has a Liability-Only Policy
Stacey is 19, and lives with her parents, next door to Darryl. Her 1997 Toyota Corolla is parked in the driveway when the hurricane strikes. The Toyota is valued at about $900, and since this vehicle isn't worth much, Stacey has liability coverage only.
When the flood strikes, her car is also ruined. But Stacey cannot get any funds from her insurance company, because she didn't have full coverage. Stacey will need to pay a tow company to come retrieve the car and take it to a junkyard.
Still, Stacey has saved money with a PLPD policy. Full coverage would have cost her more than the car was worth every year, and the payout (less a deductible) for her totaled vehicle wouldn't be worth much at all.
Now, let's imagine another scenario down the road, when a liability policy might pay for water damage.
Saul Has an Accident on I-95
Another neighbor, Saul, is driving home from work when the hurricane hits Miami. He drives an expensive Lexus worth $100,000. He owns this car outright and maintains full coverage insurance on it, with a $1,000 deductible.
Saul cautiously pulls over on Interstate 95 to wait out the storm. But another driver on I-95 is driving too fast for the conditions, loses control and strikes the Lexus, which flips into the ditch. The ditch is quickly filling with water, but luckily, Saul is unharmed and able to exit the car quickly.
This water damage claim will be more complicated. Saul's insurance company will likely total out the Lexus and then sue the other driver's insurance in a process called subrogation. Saul walks away with a check for $99,000.
Now that we've covered some possible situations where car insurance covers flood or water damage, let's answer the most common questions we get asked about insurance and water damage.
Is There a Specific Flood Policy for Autos?
No. As of 2023, there is no specific flood insurance policy for autos in any US state. If you have comprehensive insurance, sometimes called a "new car" package, or a "full coverage policy," water damage is covered. This does include water damage from rain, hurricanes, tropical storms and so on.
The comprehensive portion of your auto policy will also cover things like fallen tree limbs, flying trash cans, or other wind-driven debris.
If you have a liability policy, however, your insurance will not cover flood, rain, or traveling trash cans.
Does Car Insurance Cover Minor Water Damage?
It might, but you may be wise to avoid making a claim.
Let's imagine another common, but complicated, situation. You own a 2020 Mazda 3. You're still making payments on this vehicle, and your bank requires you to keep full coverage auto insurance with a $1,000 deductible.
You're flying out of town for a business meeting, and you park your Mazda in the airport parking lot for three days. But you forget to roll the windows up, and a thunderstorm rolls into town.
When you get back from your trip, you discover your seats are soaking wet. There's also a strong musty, mildew odor in your Mazda. All the technology seems to work, and you drive your car home.
Your full coverage policy should cover this water damage. However, professional cleaning and restoration of your car will likely cost less than your deductible.
In this case, it makes more sense to pay for professional restoration out of pocket and leave the insurer out of it. Otherwise, you'll create a claims history with your insurer, and it only takes a few claims for an insurer to raise your rates. After all, you'll end up paying for the cleaning service either way, because your deductible is $1,000.
Even if the restoration cost is a bit more than your deductible, say $1,200, it might make sense to pay for these repairs on your own. This is especially true if you already have claims or accidents on your record.
Your best course of action is to get a quote for water damage restoration first and then decide from there if it's worth contacting your insurer.
Does Car Insurance Cover Water Damage Caused by Driving Through Water?
There is no easy answer to this question. Your auto insurance company expects you to behave as a reasonable driver. In other words, if you know a hurricane is coming your way, you should avoid driving. And if your area has endured major, unprecedented flooding, it's wise to avoid flooded streets.
Flood damage will wreak havoc on your vehicle.
In 2023, California endured rare atmospheric rivers, unprecedented precipitation and incredible flooding, which came after 10 years of drought. Many CA drivers had little experience driving in these conditions, and many made poor choices about driving through running water or flooded streets.
Expensive auto accidents occurred, people suffered personal injuries and bodily harm, and auto insurance providers are left paying the bills.
Then, other drivers made the reckless choice to go out and explore flooded areas and abuse their vehicles on purpose.
So, will your auto insurance policy pay for water damage to your vehicle if you are driving irresponsibly through flooded streets? That depends on your policy, your state and local laws, your claims history and your insurance company. Our advice? Don't risk it!
Do You Need Auto Insurance? We Can Help
At Einsurance.com, our mission is to match consumers with the insurance policies they need. If you need auto insurance, whether it's a liability-only policy, a quote for insurance on a new car, or traditional full coverage, we can help.
Gather the following documents and explore our website for fast quotes on affordable insurance.
VIN information
Driver's license number
Garaging address
Average annual mileage and odometer readings
Legal names and birthdates of any drivers in your household
And remember, if you're worried about flood damage, water damage or similar perils, be sure to mention it when getting your quotes.
And while you're at it, be sure to think about saving money on property insurance, renters insurance, term life insurance policies and more. We have it all, and we're here for you.
https://www.einsurance.com/wp-content/uploads/does-car-insurance-cover-flood-damage.jpeg
800
1200
EINSURANCE
https://www.einsurance.com/wp-content/uploads/Logo.png
EINSURANCE
2023-07-20 11:00:28
2023-07-18 15:41:04
Does Car Insurance Cover Flood Damage?