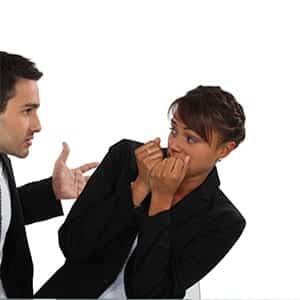 EINSURANCE
As if you don't have enough to worry about trying to keep your small business in business, lawsuits filed by employees charging retaliation continue to increase. According to the U.S. Equal Employment Opportunity Commission (EEOC) in 2013, "retaliation under all statutes was the most frequently cited basis for charges of discrimination, increasing in both actual numbers (38,539) and as a percentage of all charges (41.1 percent) from the previous year." Whether or not the outcome of an employee retaliation lawsuit ends favorably for your business, you will spend an insane number of hours and dollars defending against the charges. Here's what you need to know about employee retaliation and how you can protect your business with sound practices and EPLI coverage.
What is Employee Retaliation?
Legally liable retaliation happens when you or an employee takes a negative (retaliatory) action against another employee who has alleged or reported some kind of unlawful activity on the job. What constitutes such an activity keeps growing, but a short list includes:
Whistleblowing
Sexual harassment
Discrimination based on race, religion, gender, sexual orientation, age, and disability
Unsafe workplace conditions
Refusing to perform an illegal or unethical activity on the job
Supporting a co-worker's complaint about illegal or discriminatory practices
Filing a complaint with OSHA, the Department of Labor, the National Labor Relations Board, State Labor Commission or other government agency covering workplace conditions and activities
Threatening to file a complaint or report wrong-doing or unsafe conditions
Requesting or taking leave of absence
In California alone there are 31 bases for employees to bring retaliation charges, according to Patricia Eyres, a former litigation attorney and business consultant. She points out that employee complaints raised in good faith, even if they are mistaken, are also a protected activity.
Nor does the employee have to quit or be fired to claim retaliation. In an article for InsuranceThoughtLeadership.com, Eyres enumerates the potentially adverse retaliatory actions that could land your company in hot water:
Giving an adverse performance review that is lower than the employee deserved
Changing the employee's shift or job responsibilities with no objective business purpose
Treating the employee in a negative or abusive manner
Denying or delaying an earned promotion
Unwarranted discipline, demotion or firing
Ostracism or ridicule by supervisors, or ignoring, tolerating or inciting co-workers to ostracize or ridicule the employee
Verbal, written or electronically communicated taunts, threats, bullying or coercive activities
Preventive Measures
The best way to avoid claims of retaliatory practices in the workplace is to proactively prevent them from happening. Easier said than done, especially if yours is a small company without a dedicated HR department to stay on top of things. Catherine Padalino, writing for Workforce.com, recommends a three-step program:
1. Develop a clear, written anti-discrimination/retaliation policy.
Padalino suggests working with legal counsel so you get it right the first time. It's an investment that could save you a lot of time, money and grief down the road. Make sure it explains that retaliation will not be tolerated and how to file a grievance complaint. Once it's developed, put it in an employee handbook (give one to all your employees, and have them sign a document saying they've received it).
2. Providing thorough training.
It is vitally important that all your managers and supervisors receive training so they know what constitutes retaliatory activities, how to discourage such behavior, how to handle internal complaints, and how to document anything relating to retaliatory activity and claims. Training should be regularly scheduled (once or twice year) and properly documented as proof that you're making every effort to comply with the law and prevent workplace issues.
Whatever you do, never ignore an employee's complaint or allegation. Have a written open-door policy that encourages every employee to report unlawful activities.
Buy EPLI Coverage
Employment Practices Liability Insurance (EPLI) reduces your exposure to retaliation-related claims and lawsuits, covers the cost of defending against charges and pays any settlements brought up to the limits on your policy. Some insurance companies include access to training and expert legal advice to help you further reduce your risk. You can learn more about EPLI and get competitive EPLI quotes for your small business here.
https://www.einsurance.com/wp-content/uploads/EPLI-insurance.jpg
300
300
EINSURANCE
https://www.einsurance.com/wp-content/uploads/Logo.png
EINSURANCE
2014-09-04 00:00:00
2020-04-09 16:37:16
Protect Your Small Business from Employee Retaliation Lawsuits