EINSURANCE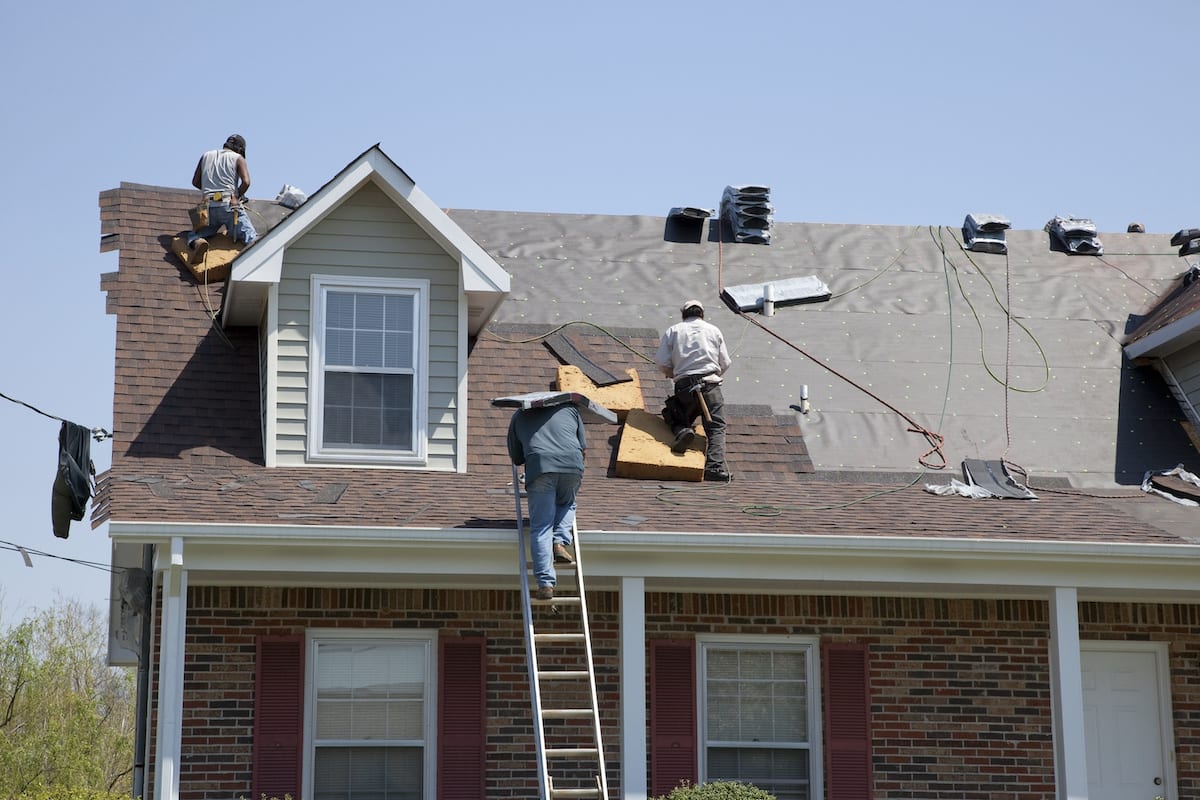 No doubt about it. Dealing with roof damage can be drawn-out and expensive. But spending the money to keep a roof in good shape or replacing it is the better alternative to losing your homeowners insurance coverage.
The Importance of In-Shape Roofing
The roof is just about the most important feature of a home, as far as insurers are concerned. This is because a damaged roof is a good indication that there are likely some unseen issues as well.
Your roof's age and condition influence what you pay for homeowners insurance; the better shape it is in, the less you'll pay for premiums. Age and condition also influence the risk insurers are at.
Some insurers won't renew a policy if it is older than 20 years and fails the inspection without replacing the roof.
Others simply won't write new policies for homes that have roofs over 20 years old.
The insurer will pay actual cash value for a roof (as opposed to replacement value) already damaged.
How Much Does It Cost to Replace a Roof?
Replacing a roof can set you back $10,000 or more, but the investment is a good one if you it keeps you from an insurance non-renewal. The average cost depends on the roof size and materials, anywhere from $400 to $550 per square foot.
Does Homeowners Insurance Cover Additional Issues?
Insurers see you – the policy holder – as responsible for keeping up with repairs and precautions od your home. It's your job to maintain the property. Your leaky roof may be covered.
Homeowners insurance policies typically cover roof damage due to:
Fire
Natural disasters including hurricanes and tornadoes
Vandalism
Your particular policy may or may not cover damage caused by:
Wind
Rain
Hail
Age of the roof
If your roof is 10 years old, you will most likely receive coverage for a whole new rood. At age 20 or more, the roof might only reimburse fully, partially or not at all.
Coverage Limitations on Roofs
As usual, be sure to read through and understand your home insurance policy or proposal, as it could include coverage limitations you need to be aware of. If a policy contains a wood shake endorsement (add-on) or an exclusion for roofs older than 20 years (meaning it won't cover your home if it has a 20-plus year old).
Some insurance policies include a wood shake or shingle endorsement can be added to a policy that excludes or restricts coverage of wooden shingle or shake roofs, growing in popularity on the West Coast.
An industry trend is to try limit liability for damages due to wind, hail or rain. Some insurance companies are only insuring shake or shingle roofs on a cash value basis, not replacement expenses. Others limit appraisals for wind and hail damage. If the policy holder insists on an appraisal, the insurer might restrict its scope.
New on the scene, cosmetic roof exclusions. The homeowner must pay for updates deemed by the insurer to be cosmetic improvements.
How to Protect Your Roof
Your roof is a big investment, so do all you can to protect it.
Take photos of the roof. Keep them on hand in case you need them. If a damaging event happens, take photos of the roof to serve as "after" photos. Submit all photos to your insurance provider.
Hire a roof inspector if the roof is more than 10 years old. The inspector can assess the damages and look for any areas that need to be repaired.
Replace broken or worn-out tiles or shingles. Left alone, these kinds of issues can lead to even more damages. Your insurance company could decide that your home is in a state of disrepair and cancel your policy.
Cut back any trees that hang over your home. Also, remove any dead trees.
Tips for Filing a Roof Damage Claim
If you need to file a claim for damage to your roof, here are some steps you may not have thought of.
Document the state of your roof, frequently – after maintenance, before and after a disaster, and so forth. You can use these before and after photos and videos to show that the damage came from a covered event, not natural wear and tear. Be sure to note the date and time each image was created
As soon as you see there's damage, get in touch with your insurance representative to go over the details and find out what is covered.
Get out your before and after photos of the roof so the insurance company can properly evaluate the damage.
Have an insurance claims examiner review any damages.
Hire a qualified roofer right away and have the roof repaired so it can protect your home. Roof Consultants Institute and National Contractors Association websites can help you find a qualified roofer.
Some of the Most Popular Roofing Materials
Asphalt shingles – The most common roofing material used in the United States, asphalt shingles are less expensive and easier to install.
Clay and concrete tiles – Attractive and long-lasting, these tiles are also heavy and expensive. The tiles are non-combustible and energy efficient.
Metal – Sleek, lightweight, and recyclable. Metal roofs are durable and relatively expensive. Available as panels or shingles made of aluminum, copper, zinc and stainless steel.
Slate – Known for being sleek and durable, slate is fire-resistant and recyclable. They are available in a variety of slate colors including black, grey, green, red and purple.
Wood shingles and shake – For those who love a rustic look, wood shingles and shake is a popular choice. Wood shingles and shake are available in Class A fire-rated wood, including shingles treated with a fire-resistant coating.
Synthetic materials – Synthetic roofing can be plastic, rubber, polymer and more. Homeowners choose from a variety color options and materials that appear natural, such as wood.
https://www.einsurance.com/wp-content/uploads/roofing-insurance-coverage-guide.jpeg
800
1200
Barbara Howington
https://www.einsurance.com/wp-content/uploads/Logo.png
Barbara Howington
2021-03-23 11:00:40
2021-03-23 10:58:14
Roofing Insurance Coverage Guide