EINSURANCE
Everyone understands the risk and potential danger involved in driving while under the influence or intoxicated. We are also all human, and unfortunately make mistakes. We at EINSURANCE surely hope you never find yourself being convicted of driving while impaired, but if you do, we'd like to help you get back on the road with adequate insurance coverage, at a reasonable rate.
Being convicted of a DUI can be quite expensive. Not only are their direct costs, such as fines and increased insurance rates, but most states also suspend your license for 30 – 90 days. If you find yourself in the unfortunate position having a DUI added to your driving record, take solitude in knowing that not all is lost, and you still can, and indeed should shop for the best insurance coverage and rate, should you choose to drive again.
Driving While Impaired Continues to be an Issue on the Roads
Although there has been an abundance of coverage regarding the negative impact of not only driving under the influence, but distracted driving in general, there still exists a meaningful number of drivers that report driving while impaired. The graph below shows the trend regarding the sheer amount (annually) of drivers that operate vehicles while impaired. You can find the data available at CDC. Behavioral Risk Factor Surveillance System (BRFSS).
The FBI reported that slightly over 1 million people were arrested in 2016 for driving under the influence. Given the amount of alcohol impaired episodes reported in the graph above, it would suggest that an overwhelming majority of the people driving while intoxicated are not caught. As we continue to learn more about the risk involved with driving under the influence, you can expect that the 1 million people arrested annually, will continue to increase if the driving while impaired trend continues.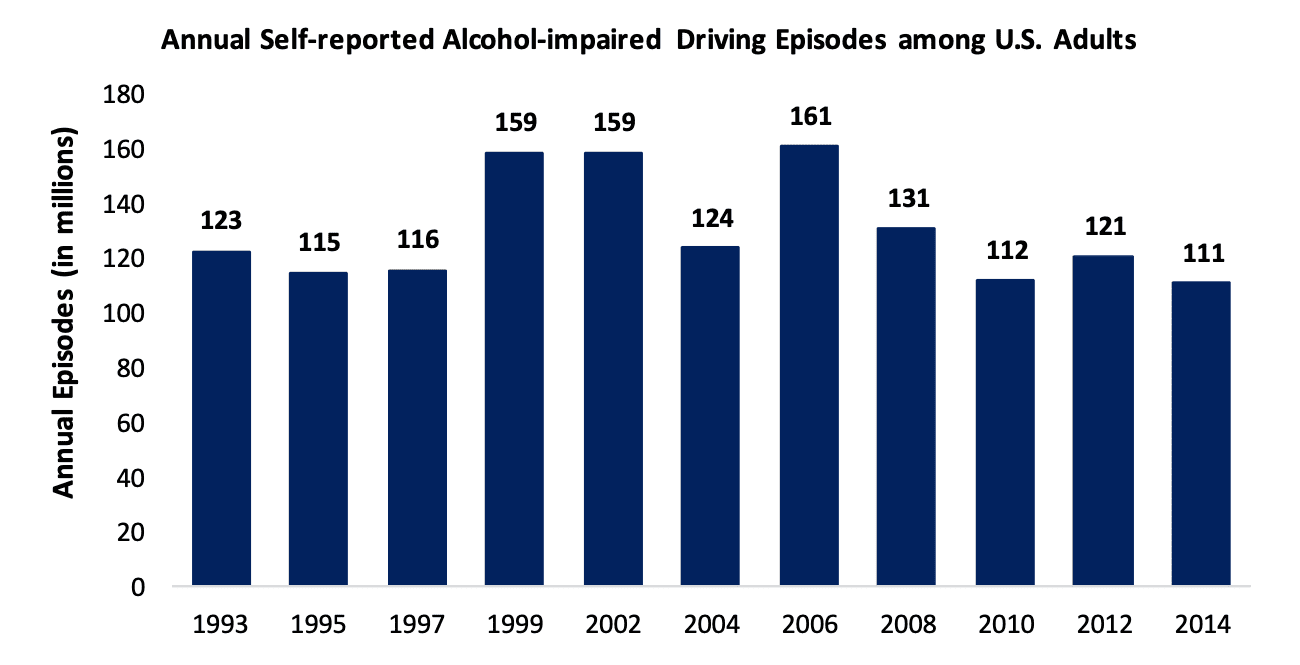 Drivers with a DUI Still have Options
In efforts to give those with a DUI a starting point regarding searching for insurance, we carried out a small experiment that involved obtaining quotes from three of the largest auto insurance providers; Progressive, Esurance and Geico. Note that we excluded Allstate because of their inability to supply a quote for a driver that had a DUI conviction. The traits of our hypothetical driver are shown below:
Female
30 years old
Resides in Boston, MA
Owns and drives a 2014 Honda Accord
Convicted of DUI in June 2018
Quote for minimum coverage limits required (including comprehensive and collision)
The average price increase that having a DUI on your record yielded was 58%. Progressive provided the best rates (with a DUI), which also resulted in the smallest difference between the DUI rate and clean record rate. Essentially showing that Progressive does not heavily penalize you for being convicted of a DUI.

Although the parameters used to generate the above premiums will not match your respective case exactly, they can provide a general idea of how different carriers view and treat customers who have been convicted of a DUI. Note that as a general rule, adding a DUI conviction to a driver's profile, from a carrier's perspective, renders that driver as high risk; meaning that driver is more likely to file a claim. As a result, carriers charge more. The table above is meant to provide an indication as to how each of these respective carriers, in terms of pricing, treats the addition of a DUI conviction to a respective driver's profile.
Additional Insurance Options for Drivers with a DUI
We chose large national carriers to review, but there are several more options available to those with a DUI. Regional and specialty (high-risk) carriers should also be considered. Although they may not have the resources of the larger carriers, they could specialize in high-risk drivers, and as such, provide tailored policies that better meet your needs. If the market does not yield any options for you, your last resort can always be your state-run insurance pool; which exists solely for those offenders that have trouble finding insurance.
Remember in all cases, continue to shop for new auto insurance, especially three to five years down the road, as carriers treat these years as significant milestones and tend to lower your rates, assuming you've maintained a clean record.
Once again, we hope you never find yourself driving under the influence. However, if you do, work hard to try and prevent it from happening again. In the interim, you still should shop for insurance, and frequently. Not all carriers are punitive, and some understand that you simply made a mistake, and will not charge you exorbitant rates for it. Best of luck on your search!
https://www.einsurance.com/wp-content/uploads/shop-for-car-insurance-after-dui-accident.jpg
1106
1718
Dale Williams
https://www.einsurance.com/wp-content/uploads/Logo.png
Dale Williams
2019-06-04 11:00:21
2019-11-25 16:29:16
Shop For Car Insurance After DUI Accident