EINSURANCE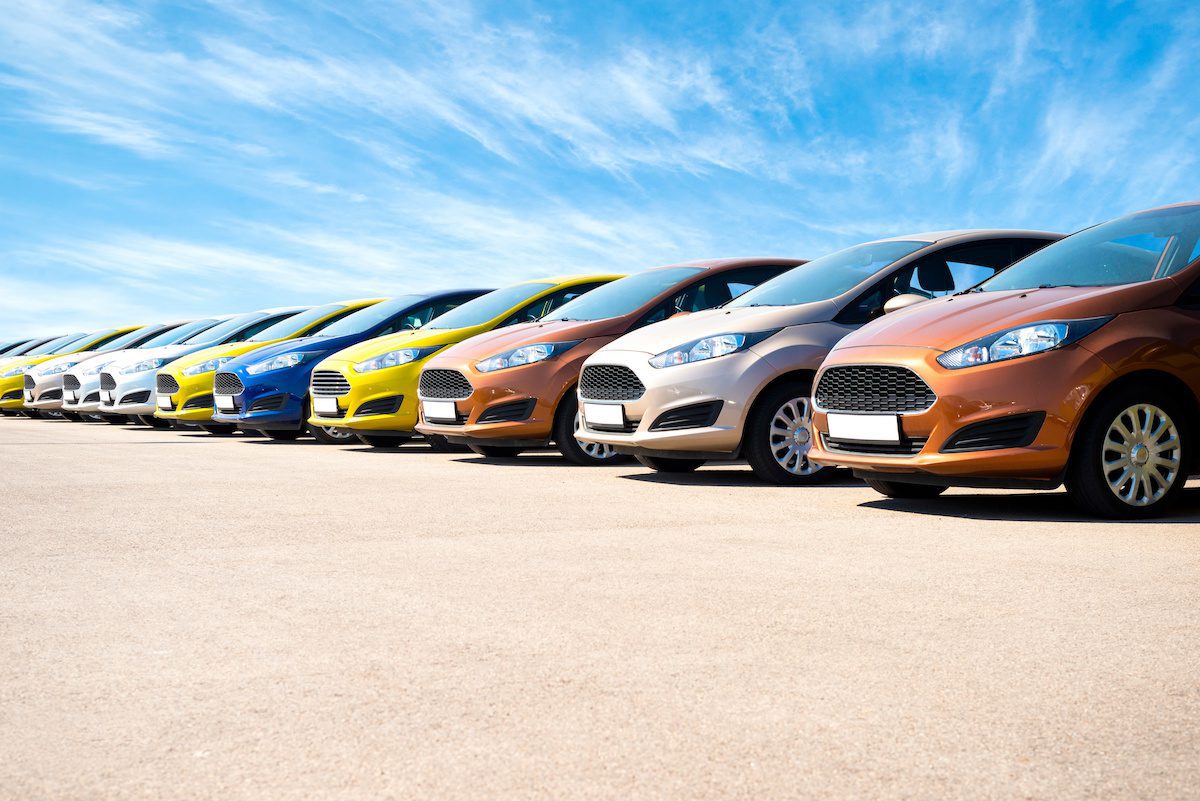 Key Takeaways:
It's a great time to buy a new or used car for a teenager but be sure to look for safe reliable models that are also affordable. We give you a list of the top safe cars for teens for both new and used vehicles.
Discover some great tips to keep your teens safe while driving.
Find insurance for your teen that doesn't break the bank. Learn some great ways to keep costs down.
It's the holidays and now is a great time to think about buying a new or used car for your teenager. Imagine how excited your child will be when they look outside and see a shiny new car with a big red bow on top! You can already hear the screams of delight!
When it comes to teen drivers, you want to make sure the car you buy is safe, reliable, and affordable. Not only is this a good idea for your teen but will give you peace of mind when they are out driving on their own.
An added perk — it also makes your insurance premium more manageable as well!
While our top 10 lists for both new and used vehicles includes affordable cars for teens, we also consider safety as a #1 priority. Cars on our lists meet or exceed certain safety criteria outlined below as determined by the Insurance Institute for Highway Safety (IIHS) and include important points like vehicle weight and braking ability.
To research a specific car or truck in more detail, the National Highway Traffic Safety Administration (NHTSA) website allows you to check vehicle safety ratings based on their 5-Star Safety Rating System. In addition, manufacturers' websites have a ton of safety information about their particular models and equipment that can further inform your decision.
Safety Criteria Used in Selection
Using criteria from the IIHS and Consumer Reports (CR), the cars and trucks considered all earn top ratings on front, side, roof, and back impact safety, as well as have standard electronic stability control and a curb weight of more than 2,750 pounds. These vehicles also have above average reliability scores from CR and dry braking at 60 mph of 145 feet or less.
All prices were determined by Kelley Blue Book and used the earliest model year and lowest trim level for cars in good condition and typical mileage. Obviously auto prices differ based on things like geographic location and season, so be sure to research your specific surrounding area.
When purchasing a used car, always remember to check for safety recalls. The NHTSA recommends checking every six months to ensure new recalls aren't missed. You can also notify the manufacturer to be put on their recall notices list and receive recalls when issued.
10 Best Used Cars for Teens
Here is a list of our top 10 used vehicles for teen drivers all priced below $20,000. As with any vehicle purchase, be sure to check the history to determine if the car has been in any accidents or had major work done.
| | | |
| --- | --- | --- |
| Subaru Legacy | 2013 or newer | $8,300 |
| Mazda 3 Sedan or Hatchback | 2014 or newer | $8,700 |
| Toyota Prius V | 2015 – 2017 | $12,400 |
| Ford Edge | 2015 – 2020 | $12,900 |
| Honda CR-V | 2015 or newer | $14,900 |
| Chevrolet Equinox | 2017 | $15,600 |
| Hyundai Kona | 2018 – 2021 | $18,100 |
| Toyota Corolla Hatchback | 2019 or newer | $18,700 |
| Audi A6 | 2016 – 2019 | $19,400 |
| Honda Insight | 2019 or newer | $19,800 |
10 Best New Cars for Teens
The list for new cars includes vehicles with a price point under $40,000.
| | |
| --- | --- |
| Mazda 3 Sedan or Hatchback | $21,200 |
| Chevrolet Trailblazer | $21,900 |
| Kia K5 | $24,700 |
| Hyundai Tucson | $25,800 |
| Subaru Outback | $27,500 |
| Mazda CX-5 | $26,800 |
| Ford Bronco Sport | $28,200 |
| Buick Encore GX | $28,800 |
| Toyota RAV4 | $30,300 |
| Toyota Highlander | $37,100 |
How to Keep Your Teen Safe on the Road
Now that you have decided to get that new or used car, you still have to keep your teen driver safe on the road. Believe it or not, parents are still the #1 influence when it comes to helping kids develop solid driving habits and now is the time to start.
Statistically, teen crash rates are 4 times higher than adults due to these common reasons:
Distracted or drowsy driving
Texting while driving
Driver inexperience
Nighttime driving
Driving with too many teen passengers
Not using seat belts
Reckless driving
Driving with music volume too high to hear surrounding traffic or emergency vehicles
Impaired driving
Driving Statistics for Teen Drivers
While grim, these statistics remind every parent the importance of setting expectations for their teen drivers' behavior. It can make the difference! According to the Centers for Disease Control (CDC):
Driver inexperience contributes to crashes and injuries more than any other factor.
Motor vehicle accidents is the leading cause of death for teens in 2022.
Over 2,800 teens lost their lives in 2020 due to car accidents. That's eight teens every single day.
Nighttime driving puts teens at much greater risk.
Risk of accidents is higher in the first months after a teen gets a driver's license.
Unfortunately, you can't always be there to keep your child safe — but you can give them the tools to make good decisions. Accidents are preventable and parents make the difference by teaching their teens good driving habits.
A study done by the CDC in 2019 found that over 42% of high school students didn't wear seat belts when they drove and 39% admitted to texting while driving.
Focus on these 11 tips to keep your teen safe behind the wheel:
Always make sure your teen wears a seat belt as well as every one else riding with them in the car. They are required in every state for a reason — they save lives!
Have your teen sign an agreement that outlines the expected behaviors they are required to adhere to while driving or riding with other teens. The CDC offers an excellent example here that addresses observing speed limits, obeying traffic laws, and never wearing earbuds or headphones (among other things).
Ride with your teen as often as possible to help them acquire experience and confidence. Driving with you in the car gives your teen the opportunity to ask questions that might not otherwise come up.
Teach your teen about their new car's equipment, GPS system (if equipped), and safety features, even how to change a flat tire. Advanced preparation gives your child the self-confidence needed to be a good driver.
Don't be afraid to make suggestions, correct behavior, or praise your teen driver. Teens are always receptive to a parent's advice, but that shouldn't stop you from participating in their learning experience.
Consider limiting your teen's driving at night for the first several months or until you feel they have gained adequate experience.
It is ok to limit the number of fellow teen passengers your child has in the car. At least for the first six months, consider no passengers or a limit of one or two until they gain some experience and confidence.
Modeling good behavior can never start too early. Always wear a seat belt and observe the rules of the road. Your child is watching and absorbing everything.
Part of developing driving confidence is feeling comfortable behind the wheel in more challenging conditions. Drive with your child in bad weather and during rush hour to help them gain assurance.
Consider a safe driving course. They are offered by private schools as well as AAA and other driving resources and are worth the time.
Be sure your teen understands your expectations about drinking and driving.
We strongly encourage you to have your teen commit to Parent-Teen Driving Agreement rather than just getting their verbal agreement. The intention of signing an agreement allows the teen to feel committed to keeping their word, plus they can never say that they didn't know or understand the rules you have set for them.
5 Ways to Get Good Insurance Rates on Safe Cars for Teens
Once you pick one of the safest cars for teens 2022, you will want to purchase insurance with full coverage to protect your teen and your investment. You can talk with your existing insurance company or get a quote for a new policy through an online marketplace like einsurance.com.
Whenever you choose to get a quote for a new or add-on vehicle, your insurance company uses known information to determine the cost of a policy. Since your child doesn't have history as a driver, they will use a mix of your insurance information, the new car's details, plus take into consideration your child's age.
Your information will typically include these items:
Demographic information, including name, address, social security number, contact information
Credit scores and history
Your driving record as well as your teens
Information about the new car — make, model, year, VIN, safety features, anti-theft devices, mileage
Daily commutes and where the car will be parked
Here are 5 ways to further reduce your teen's premium:
Good grades discount — If you child has good grades, but sure to let the insurance agent know when getting a quote. Most insurance companies give a 2 to 5% discount to students that earn and maintain a B average in school.
Choose a safe, reliable car with good safety ratings and anti-theft equipment to keep your teen safe and your premiums low.
Have your teen take a drivers' education course. Completion of an accredited course can often earn up to a 10% discount in annual premiums which can really add up.
Agree to use telematics technology if offered by your insurance company. Telematics devices, often provided by the insurance company, are easy to install and track driving habits that are reported to the insurance company and used to set rates. If your teen is exhibiting unsafe driving habits, you will know and can respond before there is a problem.
Be sure to shop around and get the best insurance quote for multiple cars and consider bundling your home and life insurance as well. Most major insurers offer great discounts for bundled policies.
Additional Discounts that Might Be Available
When buying insurance, always be sure that you get every discount available beyond bundling. Consider these in addition to some that are specific to your teen, like good grades:
Good driver or accident free discounts that reward your excellent driving habits as well as your teens as they build history.
Low mileage discounts if you drive less than 7,500 per year. With the changes to work life since the pandemic, many people are working remotely from home or in a hybrid model where their driving has been significantly reduced.
Military, professional, and senior discounts can be applied if you or your spouse are in the military or for career choices like physician, attorney, or CPA.
Being a member of certain professional or university alumni organizations. For example, GEICO currently partners with over 500 different groups to offer discounts to their membership.
You can often get a discount by paying your premiums all at once instead of opting for monthly billing. Auto pay is also rewarded with a 1-2% discount.
Loyalty discounts are awarded for long-term customers.
Anti-theft, anti-lock brakes, daytime running lights, and passive restraints are all safety features that insurance companies discount.
Shopping Around for a Quote
With today's technology, obtaining a reliable insurance quote is as easy as filling out some simple information using a marketplace quote engine. With the information we quoted above, you can get insurance prices to choose from and even talk with an insurance pro who can answer questions and ensure you are getting all of the discounts you qualify for and deserve.
https://www.einsurance.com/wp-content/uploads/top-10-safe-cars-for-teens.jpeg
801
1200
Kathryn Morstad
https://www.einsurance.com/wp-content/uploads/Logo.png
Kathryn Morstad
2022-12-15 11:00:31
2022-12-15 13:27:29
Top 10 Safe Cars for Teens