EINSURANCE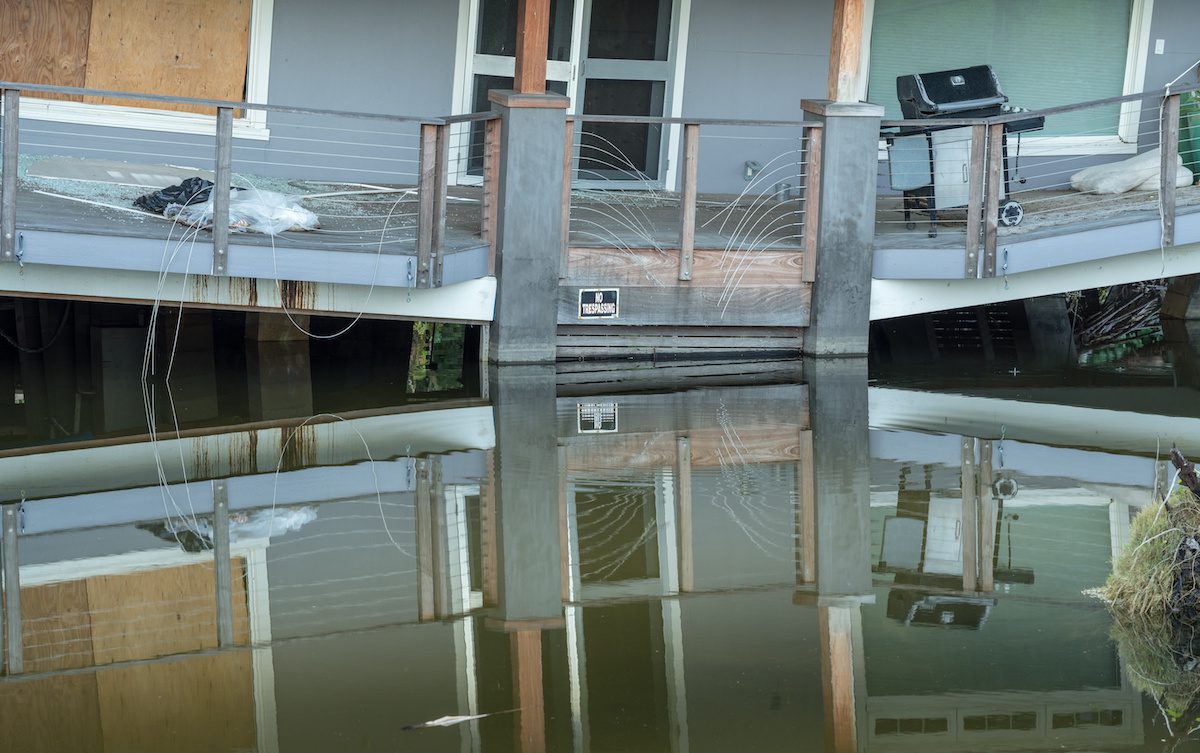 What is Sinkhole Insurance?
Key Takeaways:
Sinkhole insurance is available to homeowners in many states, while only Florida and Tennessee require insurance companies to offer optional coverage.
Sinkhole insurance can be expensive — in some cases, more than regular homeowners' insurance. Plus, the deductibles can be astronomical, so shop around for the best quotes.
With climate change, the frequency of sinkholes may increase as drought activity, followed by heavy rains, increases.
Homeowners are responsible for damage to their home and personal belongings when a sinkhole occurs on their property.
We've all seen the pictures — a giant hole in the ground with a car or a partial house sticking up.
It's terrifying to think about. It looks like the earth just opened up and swallowed whatever was in its path.
According to the Insurance Information Institute (III), the risk of having a sinkhole on your property is relatively rare. However, the U.S. Geological Survey recently estimated that between 35% and 40% of all land here in the U.S. is potentially sinkhole prone.
Still, the chance of a sinkhole occurring in a given area each year is 1-in-100, although they tend to be especially common in these states:
Florida
Tennessee
Texas
Alabama
Kentucky
Missouri
Pennsylvania
While the actuarial risk of a catastrophic sinkhole happening is low—the potential damage and repair costs can be devastating for homeowners (and business owners). Annual damages from sinkholes cost around $300 million per year in the U.S.
In fact, Florida's Senate Committee on Banking and Insurance reported that over 24,000 claims for sinkhole damage had been received in recent years — an average of 17 claims per day. The average claim in Florida in 2020 was over $140,000. These claims centered on just six counties well known for sinkhole occurrences:  Hillsborough, Pinellas, Hernando, Pasco, Miami-Dade, and Broward.
How Do They Occur?
It all has to do with water! Sinkholes form where there are underground water supplies, both natural and man-made. Natural occurrences can be from aquifers and water tables that are formed in softer rock and soil, like limestone or loose gravel.
Man-made sinkholes can occur where there are broken or leaking water or sewer pipes, abandoned mines, improperly compacted soil during construction, or buried trash in covered landfills. There is some concern that hydraulic fracture mining, better known as fracking, may increase the number of sinkholes in the future.
In each of the above cases, moving water can then slowly dissolve the rock and sediment, carrying it further down the water table and leaving a crack, crevice, or cavern in the bedrock. Over time, the weight of the soil and structures above the slowly forming hole simply gives way — it collapses and leaves behind a giant void.
Drought conditions can be a complicating factor for potential increased sinkhole activity. As the rains return, water rushes into the dried soil and carries away loose sediment and rock creating spontaneous sinkholes.
As the climate changes and droughts become more frequent, sinkhole activity is projected to increase.
Can Sinkholes be Fixed?
Yes — Although anything beyond a small hole (5 feet by 5 feet square, as an estimate), will require an extensive professional repair. Any size hole should be evaluated by a skilled pro to ensure it's not the start of a bigger problem.
Repairing a sinkhole usually involves the following:
Once debris has been cleared, the outer edges and interior of the hole will be tested for stability and then the additional rock and sediment will be cleared away if necessary.
A concrete plug or platform will be constructed to provide a solid foundation imitating the bedrock that was destroyed by water.
Typically, layers of large and small rocks, gravel, sand, and soil will be added using a 'graded-filter technique' that allows for water drainage and, hopefully, precludes any further sinkhole activity.
Once a sinkhole has been adequately repaired, construction can begin to replace the dwellings and related buildings.
Are Sinkholes Covered by Insurance?
Unlike natural disasters, like fires or hurricanes, sinkholes are not typically covered by a standard insurance policy.
Generally, sinkholes are treated as an exclusion. However, sinkhole insurance coverage is offered in many states and can be obtained separately.
While Tennessee requires all insurance companies to offer sinkhole insurance coverage, Florida is the only state where all homeowners' policies are required to have 'Catastrophic Ground Cover Collapse' coverage.
If you reside in Florida (where the most sinkholes occur), it's advised that you explore the Florida Office of Insurance Regulation's website to fully understand what type of insurance coverage best protects you, your home, and your personal belonging in the event of a ground collapse.
What is Sinkhole Insurance Coverage?
In a standard homeowners' policy, the insurance company is agreeing to cover the home and its contents, including any personal property, from 'covered peril'. The company also agrees to cover any unattached buildings, like garages and storage sheds. However, a standard policy does not generally include the land the home sits on.
Typically, insurance companies exclude damage to the land that is the result of 'movement of the earth' like during an earthquake…or a sinkhole. For example, in California, it's common to buy optional earthquake coverage to protect a home in the event of a catastrophic quake.
The same goes for sinkholes.
Is It Hard to Get Sinkhole Insurance?
That may depend on your insurance carrier. Some carriers require a property inspection to assess any preexisting conditions or damage before they issue sinkhole insurance coverage. In fact, some carriers may require your land be tested by a geologist or engineer able to detect potential sinkhole risks.
Assuming all goes well, you would be eligible to have a stand-alone policy or an endorsement to your homeowners' insurance to cover sinkholes.
What Does Sinkhole Insurance Cost?
It's expensive – no other way to say it.
However, if you live in an area prone to sinkholes, it's not nearly as expensive as the potential damage and loss possible from an actual sinkhole.
On average, sinkhole insurance costs between $2,000 and $4,000 per year and is subject to high deductibles. Often insurance companies will have a percentage deductible for specialty insurance like sinkhole insurance. That means if you have a 5% deductible and your home's repairs will cost $400,000, your out-of-pocket will be $20,000.
Coupled with your traditional homeowners' policy, this would cover these four types of situations:
Structure and dwelling coverage — This would repair the land and allow you to rebuild or repair your home and any other outbuildings if needed.
Personal property coverage — This would ensure that your home's contents would be replaced if it had been damaged or destroyed during the occurrence. This would also cover any theft that might take place while you were away from your property.
Liability coverage — This would help pay medical costs and legal costs if anyone was hurt on your property.
Alternative Living Expenses (ALE) coverage — This helps pay the cost of living for you and your family if your house is declared uninhabitable. This covers costs while your home is under construction.
Who Needs Sinkhole Insurance?
In the states listed above, you will find sinkhole insurance available albeit with a hefty price tag. If you live in a state that doesn't have significant sinkhole risk, you may still want to consider the coverage which you should be able to obtain at a much lower cost.
To find out if you have potential sinkhole problems in your area, check with your county property appraiser or search for a statewide sinkhole database. You can also check with your state geologic division or university for geologic surveys here.
Detecting sinkhole damage starts by monitoring your home and property for these signs:
Large cracks that develop around your doors and windows.
Doors and windows becoming more difficult to open and securely close.
Deep cracks in driveways, sidewalks, or on the street that runs in front of your home.
Unusual sediment in your drinking water which can be a sign of damaged pipes that could leaking water.
Depressions that develop in your yard or property around your home.
Throughout the Midwest in areas like northeastern Kentucky, sinkholes are caused by mine subsidence or old coal mines that collapse. Many insurance companies specifically exclude sinkhole insurance coverage when caused by mine subsidence. In that case, you may need a separate policy to cover mine subsidence damage or failure.
Is Sinkhole Insurance Worth It?
If you have taken the time to research your land through your county assessor's records and the state geologic survey or have talked with a local expert who is experienced in the geology of the area, then you should have a fairly good understanding of the risks involved. It would also be a good idea to talk with your insurance agent to get a feel for the importance of sinkhole insurance in your area.
Be sure to inquire about the exact coverage before agreeing to purchase a policy. Coverage can differ and more than one homeowner has suffered a sinkhole loss only to find out that their policy didn't cover the damage. For example:
Be sure your policy covers damage from natural sinkholes, as well as man-made sinkholes. Preferably your policy should cover both.
Does your home have to be declared a total loss to file a claim?
What inspections are needed to issue a new policy? And in the event of a claim or occurrence?
Does your policy cover only abrupt collapse events or does it also cover gradual damage like growing cracks in your driveway or foundation?
Do you have a policy that covers mine subsidence?
How to Obtain a Quote on Sinkhole Insurance
If you are ready to pursue sinkhole insurance coverage, be sure and shop around for the best rates as well as the best deductibles.
Doing a lot of research on insurance rates used to mean making tons of phone calls and talking with a bunch of insurance agents to get the best price.
Today, you can visit an online marketplace, like Einsurance.com, to get fast and easy quotes on all types of insurance, including homeowners' insurance. They even offer homeowners insurance guides on a state-by-state basis where you can get all of your questions answered.
Just fill out the simple form and you will receive quotes on your home insurance from insurance agents eager to do business with you. From there you can discuss sinkhole insurance options and select the insurance company that works best for your situation.
Before you start the process, be sure and have this information ready to answer any questions when getting a quote on homeowners' insurance:
Who lives in your home
How many adults
How many children
Occupation of the adults living in the home
Marital status
Do you run a business from your home
Type of business
Do you store inventory or capital assets at your home
Insurance history including existing coverage, limits, and deductibles
Type of home and estimated cost to rebuild
Age of your home
Year built
Type of roof
Type of construction
Number of fireplaces
Do you have a garage
Number of bathrooms, bedrooms
Any renovations or improvements that increase the value of the home
What kind of technology or safety devices do you have in the home
Fire alarms
Smart connected technology
Security systems
A Final Word
If you live in a state that has sinkhole issues or are relocating to one of the states mentioned above, information is available to help you determine what type of sinkhole insurance coverage you may need.
Rely on a trusted source, like einsurance.com, to get your insurance questions answered and to find the best insurance quotes with insurance agents ready to help answer your questions and guide you through the sinkhole insurance maze.
https://www.einsurance.com/wp-content/uploads/what-is-sinkhole-insurance.jpeg
753
1200
Kathryn Morstad
https://www.einsurance.com/wp-content/uploads/Logo.png
Kathryn Morstad
2022-09-22 11:00:42
2022-09-15 15:05:54
What Is Sinkhole Insurance?