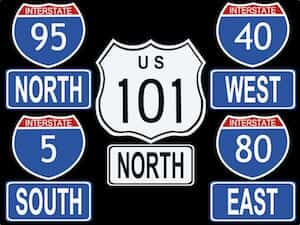 EINSURANCE
As spring and summer head our way, you may be planning a cross-country drive. A common concern with drivers is whether or not their car insurance cover out of state if they are in an accident out-of-state. Unless you're traveling to a foreign country, no need to worry.
Even though car insurance coverage has different requirements from state to state, your coverage will be valid throughout the United States. So you can pack your bags, load up the car and head out with peace of mind.
Where You Car Insurance Isn't Valid
Beyond the U.S., your insurance won't cover you if you want to drive in a foreign country, with the exception of Canada. So if you head north, you're covered. South is another matter; you'll almost always be required to purchase Mexican car insurance. If you're going to drive in a different country, your car rental company will probably provide the appropriate insurance  policy.
Requirements In Other States
Some states require that you have Personal Injury Protection (PIP). This is important if you get into an accident in a PIP state. Rather than check state-by-state, you might be better off with PIP coverage anyway. Your insurance company can provide you with PIP coverage, even temporarily.
Another area that can differ from state to state is minimum limits. However, if you're in a car accident in another state with a higher coverage requirement, your insurance will probably adjust your coverage limit to what is required in the state you are traveling in.
Does Your Car Insurance Cover You Out of State?
When you move out-of-state chances are good you will need new auto insurance. Your current carrier may not cover your new location. Plus, every state has the option of requiring different coverage minimums, and many do. See this helpful interactive guide to find out what is required in your new state.
Once you move into a new state you typically have 30 to 90 days to register your vehicle. In the meantime, update or replace your policy before you go to register your car because you must show proof of insurance in your current state in order to do so.
Is Car Insurance Impacted When Moving?
When you move your premiums may change, up or down. This is because various neighborhoods and locations have different plusses and negatives as far as auto insurance is concerned. Some of the changes that may affect your rates in your new neighborhood or situation include:
Traffic and auto accident statistics in the area
A change in where you park, on the street or in a garage
The length of your commute
Number and ages of drivers on your policy
Whether you own or rent
If you've moved to a different state
Whether or not your current carrier does business in your new location
If you have a different car
Contact your auto insurance provider to alert them to your move and update all pertinent information. Compare coverage and premium costs from several companies to make sure you're getting the best deal for you, whether you have to get coverage from a different carrier or you just want to compare your current provider's policy to see what else is out there.
https://www.einsurance.com/wp-content/uploads/does-your-car-insurance-cover-you-out-of-state-thumbnail.jpg
225
300
EINSURANCE
https://www.einsurance.com/wp-content/uploads/Logo.png
EINSURANCE
2022-06-09 11:00:00
2022-06-09 13:16:04
Will Your Car Insurance Cover You Out of State?