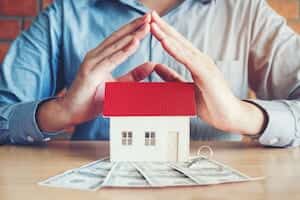 EINSURANCE
Homeowners insurance is one of those things you know you need, but you don't know if you can afford great coverage. The good news is there are ways you can save without sacrificing the effectiveness of your policy. Here are some basic ways to save on home insurance.
1. Get a multi-policy discount.
Buy more types of insurance from the same provider to get a multi-policy discount. There's power in numbers, and with home insurance you can tap into savings power by purchasing both your home and auto insurance together, for instance.
2. Make your home more resistant to disasters.
Many insurers give you a discount if you take steps to make your house more disaster-resistant. It could save you money on your premium payments if you add storm shutters, retrofit for earthquakes and upgrade your home's electrical, plumbing and heating.
3. Take steps to improve security.
Discounts are usually available if you home has security features like smoke detectors, burglar and alarms or even heavy-duty bolt locks. Ask your insurance provider what kinds of security features they'll give discounts for.
4. Buy a newly-constructed home.
A freshly built home is less of a risk for the insurer, so if your home is newly constructed, you might be able to get a discount.
5. Get a discount for being claim-free.
If you haven't filed a claim previously, your insurance provider might give you a premium discount.
6. Establish a good credit record.
Credit checks are becoming more and more common and a clean credit report might earn you a premium discount.
7. You might be eligible for an age-qualified discount.
Some insurers provide discounts for home insurance if you are 55 or over and retired, so if you qualify be sure to ask your agent if they have this kind of discount available.
8. Raise your deductible.
If you can afford to raise your deductible on your insurance, do it. When you have a higher deductible, your policy will cost less.
9. Shop around for your policy.
It pays to get more than one quote. Your rates might be higher with one company and lower with another, all for the same kinds of coverage. And be sure to ask your provider what discounts they offer.
Interested in finding the best coverage for your home? Find out more about homeowners insurance and use our quote tool to compare your options.
https://www.einsurance.com/wp-content/uploads/10-ways-you-can-save-money-on-homeowners-insurance-thumbnail.jpg
200
300
EINSURANCE
https://www.einsurance.com/wp-content/uploads/Logo.png
EINSURANCE
2017-11-21 00:00:00
2023-03-15 11:24:51
9 Ways You Can Save Money on Homeowners Insurance