EINSURANCE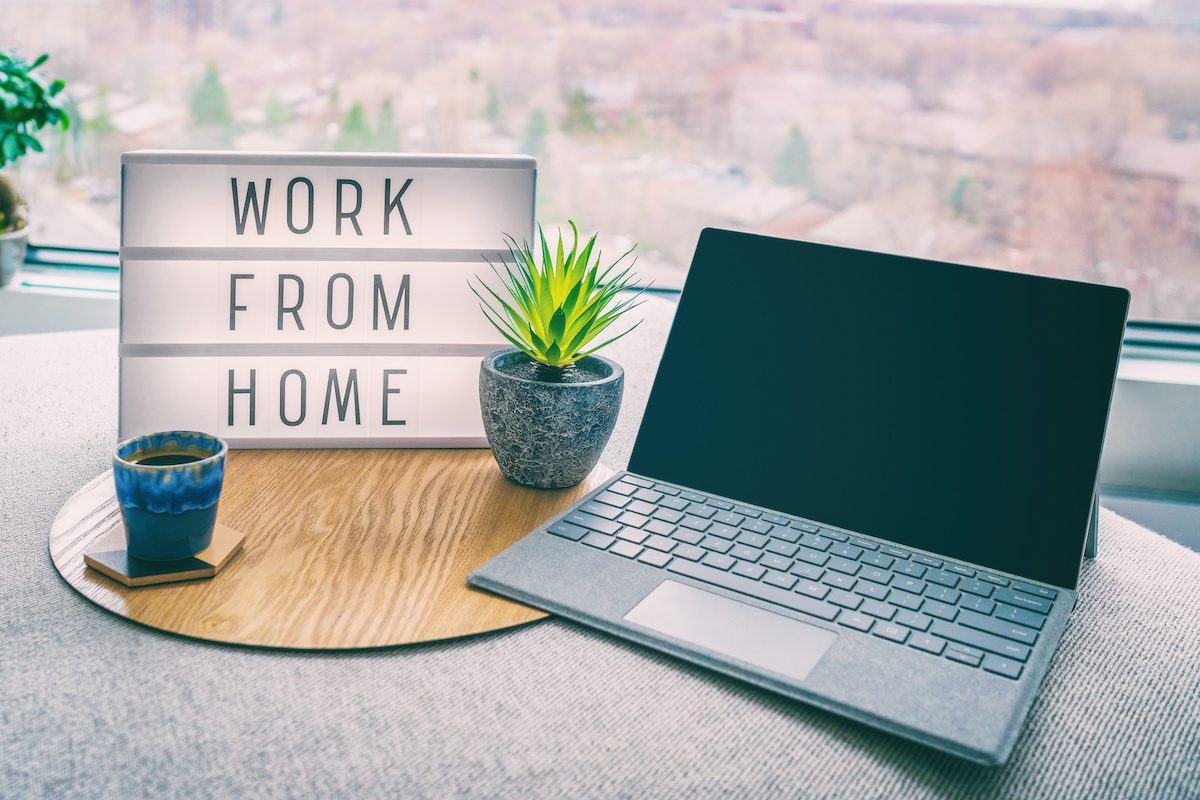 A recent Gallup poll suggests 25% of all employed Americans are now working from home. Another 20% of employed individuals are hybrid workers, meaning they work from home at least some of the time. That's a total of 45% of all employees in our country, about 4.4 million souls.
If you're one of those 4.4 million Americans, you're wondering "Does homeowner's insurance cover me when I'm working at home?" Unfortunately, the answer is usually "No."
There are a few minor exceptions, but as a rule, employment activities are not covered by homeowner's insurance. And some home-based jobs are explicitly not covered by a typical homeowner's policy. The most common example we can imagine is home-based childcare. While the occasional babysitting of a relative would be covered, a professional day-care facility in your home requires special insurance.
Home Insurance Provides Very Little Coverage for Working at Home
Today, we'll explore everything you need to know about insurance as a work-from-home employee, independent contractor, or hybrid worker. We will cover the following topics:
If you're wondering "Does my home insurance cover my work at home?" You're in the right place. Now, let's start with a better understanding of what homeowner's insurance is meant to do.
What Homeowner's Insurance Covers
Homeowner's insurance is built upon the concept of structural fire coverage. If your home burns down, you're covered, up to the policy limits. Every state has slightly different laws, but most homeowner's policies will also cover:
Wind
Hail
Lightning
Falling trees and tree limbs
Riots or civil unrest
Malicious mischief and vandalism
Theft and break-ins
Notably absent from the list above are floods, wars, and nuclear attacks. Insurance companies cannot cover huge, regional catastrophes like those. If they did, they could end up going out of business and leaving millions of people uninsured after a single event.
Contents Coverage
We should also mention that your homeowner's policy will cover the contents of your home – your personal belongings, up to policy limits —after a covered loss. Contents coverage on a homeowner's insurance policy is usually calculated as a percentage of your home value ("Coverage A".)
For example, imagine your home is valued at $300,000, and you have contents coverage of 50% of Coverage A. If the entire structure were to burn down, you'd get a check for $450,000. That would cover both your structure ($300,000) and all the belongings inside ($150,000.)
Thus far, we've covered the structure and contents of a home, and how they're covered by a homeowner's insurance policy. Now, let's get into liability on home insurance, but remember, most business activity is not covered by your homeowner's liability.
Liability Coverage on a Home Insurance Policy
"Liability" means responsibility. Beyond damage to structure and outbuildings, most homeowner's insurance policies have some type of liability coverage. This is designed to protect your home in case of a lawsuit, should someone be injured on your property, or due to your negligence.
Most insurers offer some liability coverage built into the property policy, but it might not be enough coverage to help you sleep easily at night. After all, how far does $100,000 go towards medical bills in the 2020s? Not that far.
The table below shows some common incidents, and whether they might trigger your liability coverage.
| | | |
| --- | --- | --- |
| Incident | Covered by liability? | Reasoning |
| Your neighbor twists her ankle on your porch while delivering a piece of mail. | Yes | She was injured on your property. Your liability coverage will help pay for her medical care. |
| A tree limb falls onto a visitor's car while it's in your driveway | Yes | Someone else's property was damaged while on your property. You're responsible for the repairs. |
| Your dog bites someone who is visiting your home office. | Probably not | Dog bites are becoming more common, and more expensive. Many insurers now deny coverage to dog owners, or specifically exclude dog bites from the home insurance policy. And since this visitor was coming to see you "at work," it's probably not covered. |
| You get sued for copyright infringement while working at home. | No | Your work activities are not covered by traditional home insurance. |
| You make an expensive error while working at home that costs your client thousands of dollars. | No | Home insurance doesn't cover errors or omissions you might make while working at home. |
Next, let's talk about how working from home will affect your home insurance.
How Work at Home Creates New Risks
From the insurer's perspective, your at-home-employment brings new risks. Remember, your insurance policy is meant to cover structure fires, first. It protects the homeowner from the standard risks associated with simply owning a home. Business risks aren't included, and they aren't reflected in your price for insurance, either.
Examples of risks related to a business could include:
Lost paperwork
Stolen cash
Data or security breaches that lead to identity theft
Slip and fall accidents if a customer were visiting your home
Manufacturing issues if you're assembling products at home
Business inventory lost in a fire
Business paperwork lost in a fire
Your traditional homeowner's policy has no coverage for these types of risks. It's the wrong kind of policy, just like your auto insurance doesn't protect your boat.
Think of it like this: your home insurance doesn't exist to cover your expensive work equipment, hardware or software. It's not designed to cover your liability risks associated with a bunch of walk-in traffic. And it won't cover you for advertising mistakes, like copyright infringement, you might make while at home.
Your homeowner's policy won't cover large amounts of cash that you accept on behalf of your employer, either. Most policies only cover a few hundred dollars of cash. This is a crucial point for individuals who might take large sums of cash on behalf of their employer, like insurance agents, financial advisors, or funeral directors.
These are just a few risks your insurer is thinking about when they insure a business, rather than a home. Then, there is expensive technology or equipment to consider. Since you're working from home, you probably have access to some technology.
Are Computers and Technology Covered by a Homeowner's Insurance Policy?
Most homeowner's insurance policies have a small amount of coverage for computers and technology. Every state and every insurance company are a little different. But generally, most home policies include $2,500 worth of coverage for computers / laptops / cell phones. In the normal course of things, that would be enough coverage for a computer or laptop if your home were to be burglarized or burn down.
Is $2,500 enough coverage for the technology you need to work at home? Maybe. Look around your home office and tally up your machines. Don't forget to include:
Cell phones
Routers
Software
Printers and fax machines
Adding machines or expensive calculators
Paper shredders
There's a good chance you have more than $2,500 in technology. And if you do any sort of manufacturing or assembly at home or keep your company's equipment in your garage for the purpose of working at home, it might not be covered.
Which Work-From-Home Employees Should Buy Added Coverage?
Nearly any telecommuter could benefit from added insurance, even if you never use it, you'll sleep better at night knowing you're well protected from problems like fire and theft.
Specifically, we'd encourage the following types of workers to get extra coverage:
Teachers, instructors and tutors
Insurance agents
Financial advisors
Clerical or administrative employees
HR staff (because they have access to sensitive information)
Anyone who deals in cash
Anyone who deals with vehicles
Real estate agents and their assistants
Attorneys and paralegals
Childcare providers
Now you're starting to wonder "What kind of insurance rider should I get for working at home?" There's no easy answer to your question because the whole work-from-home movement is relatively new in the realms of insurance. Still, we can guide you towards some considerations that matter, so you'll be ready to get quotes.
How to Add Coverage for Working at Home
First, contact your insurance company. The 2020s are a new era, and thanks to the magic of the internet, you might be able to add some quick endorsements — also called riders — to get the coverage you need. Be honest and straightforward with your insurer, so they can get you the correct amount of coverage for all the different risks you take as a work from home employee.
Points to mention:
Cash kept on hand or in a safe
Animals that are cared for as part of your business (dog walkers, horse boarding, etc.)
Any personal care services you perform (eyelashes, salon treatments, nails, and so on)
Foot traffic through your property related to work
Expensive shipments or deliveries you send or receive
Expensive jewelry, art, or musical equipment that relates to your business
Data storage (if you deal with sensitive information like social security numbers or protected health information)
Armed with those facts, the insurer can help you find the right coverage for your needs.
Your insurer might choose to add:
An endorsement for increased limits on business property – this increases your coverage for things like computers and software, or equipment, usually up to $10,000
A business pursuit endorsement – this rider supplies extra liability protection for employees that work in sales, clerical or instructional jobs.
A home business insurance coverage rider – if you are self-employed and working at home, this endorsement supplies almost as much coverage as a business owner's policy (BOP.). It protects your business property, business income, medical payments to others and so on. Most insurers have strict criteria, and only a small, individual, home-based business will qualify for this rider.
You'll be able to do your job confidently with the right insurance protection.
Now, some occupations have the potential to cause significant damages to others, even when they are work from home positions. Insurance agents, financial advisors, business consultants, and similar roles bring up these kinds of risks. If your work from home position requires you to make investments or create valuable contracts, you should consider Errors and Omissions (E&O) insurance.
What is E&O Insurance?
We think theHartford.com says it best, E&O insurance "helps protect you from lawsuits claiming you made a mistake in your professional services. This insurance can help cover your court costs or settlements, which can be very costly for your business to pay on its own." In a way, you're insuring your advice against mistakes. Licensed insurance agents carry E&O all the time. We're only human after all.
Now that you have a good understanding of home insurance for work at home, let's talk about shopping for new coverages. Again, the best truly unbiased advice is to start with the insurance company you use already. But it's a good idea to shop around every few years for all your insurance needs.
Shopping for the Best Insurance for Working from Home
Maybe you've already spoken with your homeowner's insurance company, and you're not thrilled with their quote. You can start your search online by looking for "work from home insurance" or "insurance riders work from home." Just be aware that many insurance companies will try to lure you in with a low rate, but they might not be offering the same level of coverages.
If you're thinking about switching homeowner's insurance from one company to another, read your current policy and the new quote very carefully. Talk to a licensed agent you trust if you're not comfortable with the details. Insurance is complicated, we know!
But it's also a standard marketing trick in the insurance world to lure customers in with an attractive price, and slowly inch up their rates over time, even if the customers never file a claim. Shopping around can save you money, even on homeowner's insurance policies that include riders for working from home.

https://www.einsurance.com/wp-content/uploads/does-home-insurance-cover-working-from-home.jpeg
800
1200
EINSURANCE
https://www.einsurance.com/wp-content/uploads/Logo.png
EINSURANCE
2022-03-15 11:30:40
2022-03-15 11:32:20
Does Home Insurance Cover Working from Home?