EINSURANCE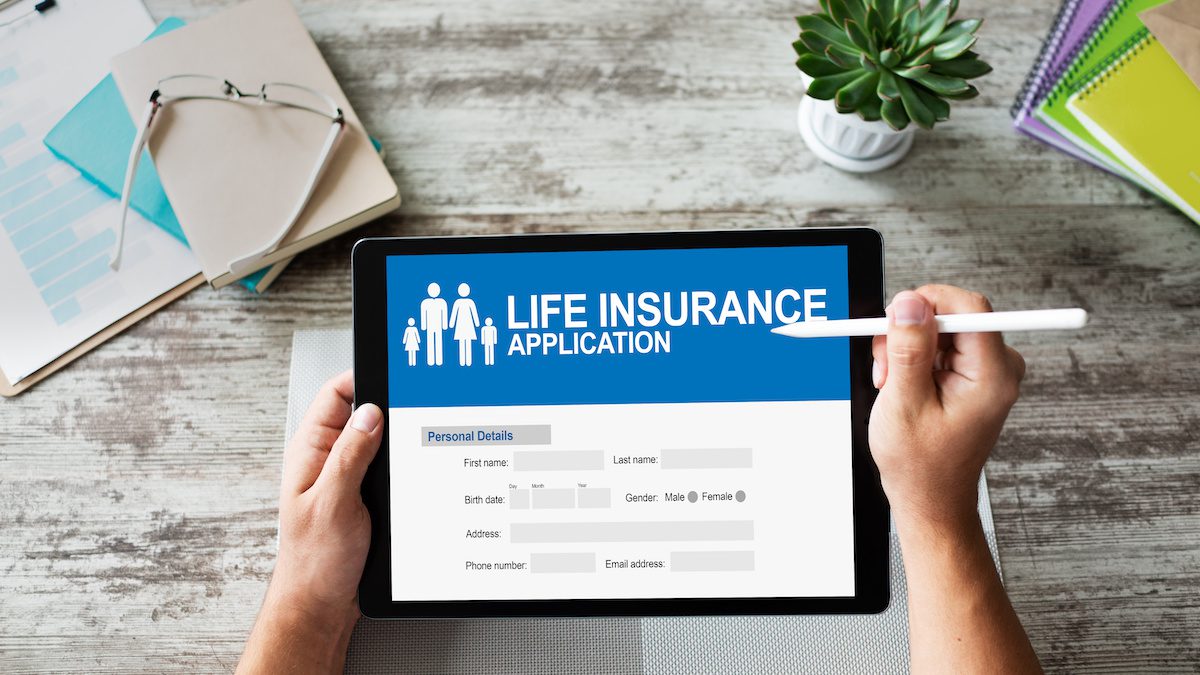 Buying life insurance online feels utterly overwhelming. In early 2022, a quick Google search for "life insurance" brings back more than 1.2 billion results. Add those to TV commercials, spam emails, text messages and snail mail, and it's easy to see why consumers experience choice overload when shopping for life insurance online. There are just too many options, and too many details to compare.
Today, we're going to block out all that marketing noise and provide you with a totally unbiased guide to buying life insurance online. At the end of this piece, you will know how to shop for life insurance online, what to look for when comparing life insurance policies, and what to expect when applying.
We'll cover:
Let's start with types of life insurance. Don't worry, it's less complicated than you think.
Types of Life Insurance You Can Buy Online
Put aside every commercial, postcard or spam email you've ever seen. There are only two primary types of life insurance:
ALL life insurance policies you could buy online fall into these categories. Some of them have bells and whistles, or you might hear them called "final expense life insurance," "Universal life insurance," or "accidental death indemnity." But if you learn one thing from the internet today, let us repeat: all life insurance policies fall into one of those categories.
You'll need to know the difference between them to successfully buy life insurance online.
Whole Life vs. Term Life
Here, we'll explore the differences between whole and term life policies.
Buying Whole Life Insurance Online
Whole life insurance is sometimes called "permanent life insurance." And "universal" policies fall under this umbrella, as do "juvenile" or childhood life insurance offered by companies like Gerber.
All whole life insurance contracts are meant to last your entire life.
You'll pay a premium every month in exchange for X amount of insurance.
Your premium price will never increase.
If you buy a whole life policy at age 25, you'll still pay the same amount for that policy when you're 75.
One key point is that whole life policies build a cash value. The insurer invests some of your money every month on your behalf. It takes several years of premium payments to have a significant cash value saved. But you can access those funds later to help pay for emergencies. Just know that you must pay them back quickly, or you'll end up paying interest.
The cash value of a whole life policy can be a great tool. For example, imagine your freshly stocked refrigerator dies five days before payday. You could grab some money out of your whole life insurance cash value, buy a new fridge and groceries, and pay it back on payday, interest-free.
And if you find yourself no longer in need of an insurance policy, you can cash it in, or sell it to a life settlement broker.
Buying Term Life Insurance Online
Term life insurance policies work a little differently. You'll enter a contract with an insurer, but it's only for a set time. That time can be five, 10, even 30 years. But when that term is over, you'll sign a new contract if you still want life insurance. Your premium will increase (significantly) as you age, and there's no cash value.
If you see an ad online that says "$20 a month can buy you $100,000 in life insurance" know that ad is for a term life policy.
The benefit of term policies is that they provide a high amount of coverage for an affordable premium. A 40-year-old healthy male might pay $30 for $100,000 of term coverage for the next ten years, or $30 for $15,000 of whole life coverage, for the rest of his life.
Therefore, to make the best choice when buying life insurance online, you should have a good idea of your budget and know how much life insurance coverage you want. And remember, no law says you can only have one policy or one type of policy. Many people have both term and whole life policies.
The table below illustrates some popular whole and term life policies.
Type of Life Policy
Cash Value
Permanent
Popular Sub-types
Whole Life Insurance
Yes
Yes
·       Universal

·       Final Expense

·       Childhood

Term Life Insurance
No
No
·       Decreasing coverage (for a mortgage)
Now, let's talk about where to look for life insurance policies online.
Where to Buy Life Insurance Online
Wait. Stop. Before we get into where to buy life insurance online, the truly unbiased answer is this: The first place you should get a new life insurance quote is with an insurer you already use. You might be able to get a discount on your home, renters, or auto policy by adding a new life insurance policy. In the insurance business we call it "bundling." With a good enough discount on your home and auto, that new life insurance policy might almost pay for itself.
Put another way, if you're getting $75 a month in discounts for buying an $80 life insurance premium, you're only spending another $5 for life insurance coverage. By taking advantage of bundles, you can get a great deal.
AND, if your family uses two or more insurers (Geico for the cars, and Allstate for the home), get life insurance quotes from all of them. You might be able to get two life insurance policies, two sets of discounts, and spend very little for lots of life insurance coverage.
But maybe you've done this already. Maybe you're not thrilled with the prices or coverage offered by your insurance company and you're ready to take the search for life insurance online. Let's go there.
How to Buy Life Insurance Online (We Mean it this Time)
Now that you know the difference between term and whole life policies, your research time is cut in half. Head to your favorite search engine, perform a search, and include any other crucial details like your budget. Or just try these:
Cheapest whole life insurance under $100
Cheapest term life insurance under $25
Life insurance with no medical exam (more on this in a moment)
Life insurance for tobacco users
Depending on the search engine and your query, you'll still come up with millions of results. Each one of them will require you to fill out an application. And every application could lead to a ton of spam emails and dozens of phone calls from agents. So don't fill out 10 applications right now. Start with just a few.
Some of the agents who respond will require a medical exam. Let's talk about that.
Life Insurance and Medical Exams: How to Buy Life Insurance Online Without a Medical Exam
Many insurance companies will request that you complete a quick physical before they insure you. This is especially true for larger whole life policies. While this seems inconvenient, it's not a big deal. Life insurance companies have contracts with medical professionals and labs all over the nation. They'll even send a lab tech to your door to take your blood pressure and get a look at you. Here's what you should know:
You won't be expected to pay for your physical, the insurer will pay for it.
They'll take your blood pressure, and in some states, they'll ask for a blood or urine sample.
Life insurance medical exams are quick, expect to spend 10 or 15 minutes.
Life insurance medical exams aren't intensive. Insurers just need to know that you're healthy enough to insure. If the tech arrives at your home to discover that you're on hospice, they're not going to insure you. Can you blame them? They're planning to write a big check when you pass away, they don't want to write that check too soon.
If you're young and mostly healthy, it's worth jumping through these hoops. You'll get better coverage for your monthly premium.
But if you're older, don't care to deal with a physical, or might have a health issue, you can get life insurance without a medical exam. These will always be term policies, and you'll pay a little more for them.
Find Life Insurance Online with No Medical Exam
If you're hoping to buy life insurance online with no medical exam, search online for exactly that. Plug in: "buy life insurance with no medical exam." Your options are endless. Again, fill in one or two applications. They'll get back to you quickly. You might even be able to buy your life insurance online with just a credit card and an application.
This leads nicely into our next topic. Let's talk about life insurance applications.
About Life Insurance Applications When Shopping Online
The second-most critical point you'll learn today is this: always be completely honest on your life insurance application. Life insurance companies will access your medical records, call your doctors, send out a tech to get a look at you, and more. They may also share this information with other insurance companies.
So, even if you're tempted to mis-state your age or health status, don't do it. They will find out the truth, and they will consider your behavior a "moral hazard." Could misrepresenting your age or health on a life insurance application affect your auto insurance rates in the future? It's possible!
In our age of mighty technology, all insurance companies share information. Once you're branded as a moral hazard – the type of person who lies to insurance companies – with Company A, Companies B, C and D could find out. So be honest. Even if you're not too healthy, or if you smoke, or you're 88 years old, there is a life insurance company out there who is looking specifically for your business.
What Kind of Information Do Online Life Insurance Applications Require?
If you're planning to buy life insurance online for yourself, you'll be able to answer most of the application questions easily. The standard questions cover:
Your age and gender
Health status
ID information, like a Social Security number and driver's license number
Your current address and contact information
Your occupation (some occupations are riskier than others)
And the beneficiaries' information (the beneficiary is a person or organization who will receive the funds or "death benefit" when you pass away)
Know Your Beneficiary's Information
From a licensed insurance agent's perspective, the hiccups with any life insurance application usually start with beneficiary information. You'll need to have accurate information about your beneficiaries moving forward. That means:
Their full legal name
Their mailing address and contact phone numbers
And if you can provide their Social Security number that's a big help. (Insurers want to know the check is going to the right individual.)
Also, be ready to assign a secondary beneficiary. The life insurance company needs to know a second person or organization who could receive your death benefits. This is in case your primary beneficiary passes away or is otherwise unable to be found.
To summarize, you'll need your personal information, contact information for a primary beneficiary, and contact information for a secondary beneficiary.
Finally, let's introduce you to the notion of ratings.
Insurers are Rated for Financial Strength
A life insurance contract is potentially the longest contract you'll ever sign. We're not talking about paperwork; we mean that a whole life insurance policy might last 90 years or more. That's three times longer than a 30-year mortgage. When buying life insurance online, you need to be confident that the company will endure.
Most consumers don't know that life insurance companies are rated by five different organizations. And frankly, that's a blog for another day. Just know that every insurance company will advertise their best "A+" rating whenever they can, but four other consumer advocacy organizations might not rate them so well. Don't just dive into the cheapest life insurance policy you find online, make sure that company has staying power.
Now, you're wondering "What happens if the online life insurance company I choose goes out of business?" Don't worry. Life insurance companies do occasionally go out of business, but your policy will be sold to another company, or your state government could step in. If you keep paying your monthly premium on time, you will be insured for the length of your contract.
https://www.einsurance.com/wp-content/uploads/how-to-buy-life-insurance-online.jpeg
675
1200
EINSURANCE
https://www.einsurance.com/wp-content/uploads/Logo.png
EINSURANCE
2022-02-17 11:00:40
2022-02-15 15:23:13
How to Buy Life Insurance Online: The Ultimate Unbiased Guide