EINSURANCE
Key Takeaways:
It's important to comparison shop before committing to new insurance and canceling an existing insurance policy.
Each insurance company has its own rules for policy cancellations that are part of your contractual agreement to abide by.
We give you a Sample Insurance Cancellation Letter Template to use when notifying your insurance company along with a checklist of things to remember.
So, you've been thinking about canceling your insurance, but aren't sure quite how to do it?
That's understandable! Insurance is one of those things that you need for various life circumstances, but once it's in place, most of us want to acknowledge the peace of mind and then forget about it unless we need it. That usually works, until you have a change of situation or want to compare pricing to see if you can get a better deal.
Can I Cancel My Insurance Policy and Get My Money Back?
No matter the type of insurance, at some point you may want to cancel an insurance policy before it expires without forfeiting the money already paid upfront. Well don't worry, you can always cancel your insurance policy and get your money back for the unused portion of premiums.
Here we tell you what things you should consider, how to request for a cancellation of your insurance policy, and give you an insurance cancellation letter template to use in requesting cancellation from your insurance company.
Below, we also present our checklist of important considerations and actions that allow you to cancel your insurance policy and get money back with no problems.
Comparison Shop Before You Cancel Your Insurance
Unless you have experienced a change in circumstances, such as sold a car or business, you may be interested in just finding a better deal for your money.
You deserve the best price for your insurance coverage and there are major insurance companies willing to compete for your business. Today, it's easy with online quotes for just about every type of insurance.
Start with getting comparison quotes on the type of insurance you are interested in replacing to see if you can save money. Our insurance quote engines are available to give you information on the best industry-leading companies offering the lowest prices on auto, home, business, health and life insurance.
Just fill out some simple information and you will receive comparison quotes or company comparisons to get you started.
Did you know that you don't have to wait until your insurance policy expires to search for a better insurance quote? In fact, you can also call 1(844) 524-6505 right now for multiple insurance quotes. In the event you find a cheap online insurance quote right now, you can ask your current insurer to cancel your policy and refund the remaining premium.
Once you select a new policy, pick a date to make your transfer.
Things to Consider Before You Write a Letter to Cancel Insurance
Now that you've decided to start a new policy with a different company and cancel your existing policy, there are a few things to consider when you plan your policy transition. Remember to keep these things in mind:
Have Another Policy On Deck
It's imperative that you have a policy ready to go that continues your all-important coverage once your existing policy is no longer in force. Find your best price through one of our quote engines and then complete the necessary paperwork and approvals before you proceed.
You Don't Want a Gap in Coverage
For future insurance cost savings, you don't want to have a gap in coverage, even for a few days. Insurance companies see that as a negative and your insurance rates will reflect that for future policies. So take the time to plan out your potential move and be sure that there is no gap between the date and time your existing policy is in place and when your new one takes effect.
It's Illegal to Drive in Most States Without a Policy in Place
If you are replacing auto insurance using an auto insurance cancellation letter, remember that it is illegal to drive in most states without at least a liability insurance policy in place with no gap in coverage. For that matter, if your car is stolen or vandalized without an appropriate policy in place, you would be liable for the costs of the damage.
Check your auto insurance state guidelines to see your options. Remember, even if your state doesn't require insurance, it is still in your best interest to not have a lapse in coverage no matter how short in duration.
How Do I Cancel My Insurance Policy?
Each company has its own rules for policy cancellation. Be sure to review your existing policy to see what the cancellation requirements entail. For instance, you may need to give 30 days' notice or give an insurance cancellation notice in writing. It's best to fully understand what your contractual obligations are before you buy a new policy or announce your intention to cancel an old policy.
The first step prior to writing the cancellation letter for insurance is to look to your policy to see if there are any provisions regarding cancellation and notification of your insurer. There may be instructions regarding how to cancel your insurance policy – how many days notice you need to provide and to whom the letter should be addressed.
You will want to follow any specific instructions contained in your insurance regarding policy cancellation. However, oftentimes the cancellation provision in an insurance policy only references cancellation by the insurer. If there are no specific instructions regarding cancellation by you, all you will need is your insurer's contact information.
Policy Dates and Times
Be sure to check your policy for the specific dates and times that the policy is in force. Most companies use midnight in their respective time zones as the beginning or ending date and time.
Also, check to see if weekends are excluded in terms of canceling a policy. If you are planning to switch insurance at the end of a month and that falls on a weekend, make absolutely sure your change takes place on the last day of the month and not the next business day.
Dedicated Cancellation Department
Most insurance companies have dedicated cancellation departments, so find out if that's true at your insurance provider. A dedicated cancellation department makes it more streamlined to cancel your coverage and gives you cancellation experts to deal with as you go through the process.
In fact, it may be prudent to call the cancellation department to verify the terms in your insurance contract. That way if something has changed in terms of your obligations, you will know in advance.
Logistics of Canceling One Policy with Another in Place
It is worth paying the small-dollar difference to ensure that you have your new policy in place before your existing one expires. Talk with your insurance company; they are usually helpful in offering riders or other mechanisms that ensure coverage.
Once you have selected your policy, determined the best date for transfer, applied for, and been approved by your new insurance company, it is time to write your insurance termination letter to submit to your existing insurance company.
How to Write an Insurance Cancellation Letter to Cancel Insurance Policy?
When it's time to write the actual insurance cancellation letter, have these pieces of information readily available:
Old policy number — You will need to reference your old policy number in its entirety with all prefixes and suffixes attached as well.
Requested cancellation date — This is the date that you will need to have available ensuring that there is no break in coverage.
New insurance company name — You may need to share your new insurance company's name and contact information with your existing insurance company.
New insurance policy effective date — It will be important to have the new insurance policy effective date.
Mailing address — Your current contact information and mailing address so that any checks or refunds can find their way to you easily.
Ask for Written Confirmation of Receipt
Include in your letter a request for a written confirmation of receipt. You don't want there to be any confusion that you have asked for your policy to be terminated and on what date.
Note on our sample insurance cancellation letter template, we include the language for certified mail, with a return receipt requested. Done through the post office, a return receipt is considered proof of delivery and should be saved in your records along with your written confirmation letter.
Checklist for Insurance Cancellation Letter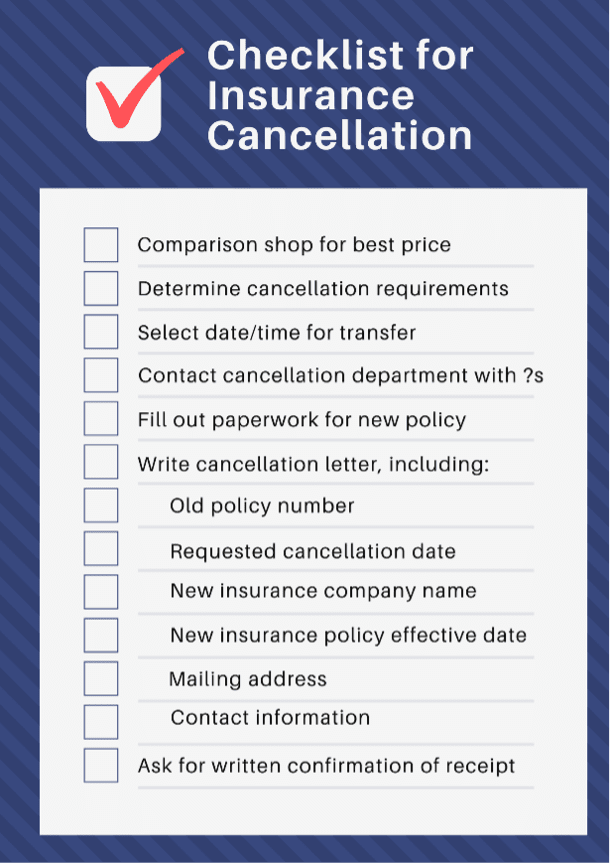 Sample Insurance Cancellation Letter Template
Once you have reviewed your policy for specific instructions regarding insurance cancellation if any, and the contact information for your insurance company, you'll be ready to write the letter of cancellation. Here is an insurance sample cancellation letter to use as a starting point – remember, follow any specific requirements in your insurance policy as well.
This template can be utilized as an auto insurance cancellation letter, homeowners insurance cancellation letter, health insurance cancellation letter, business insurance cancellation letter and life insurance cancellation letter as well. Note that you can use our download link below to get a free copy of the insurance cancellation letter.
[Date]
Via Certified Mail – Return Receipt Requested
Insurance Company Name and Address (include department or contact name, if known)
Re: Cancellation of Policy
Insured: [Insert Named Insured's name here – to be found on the Declaration page of your policy]
Policy Number: [Insert Policy Number here – to be found on the Declaration page of your policy]
Policy Period: [Insert Policy Number here – to be found on the Declaration page of your policy]
Dear Sir or Madam,
Please allow this letter to constitute my formal demand for cancellation of the above-captioned policy. This cancellation will be effective as of ____ date.
Please immediately return any unused premium to me at my address listed below. Please be advised that I no longer authorize your company to directly withdraw any future premiums from any of my accounts.
I would appreciate receiving written confirmation of this cancellation within 30 days. Please do not hesitate to contact me with any questions. I look forward to your prompt attention to this matter.
Very truly yours,
[Your Signature]
[Insert Your Name]
[Insert Your Mailing Address]
[Insert Your Telephone Number]
Submitting Your Insurance Cancellation Letter
It's important to use the contractually approved avenue to submit your insurance cancellation letter. First, ensure that your insurance company doesn't require a notarized signature. Next, review the approved way to submit your letter and comply with their instructions, whether that is by mail, email, or fax. If by mail, take the time to send your letter by certified mail with a return receipt requested. And always keep a copy of your signed letter (and signed returned receipt) for your records.
To Sum Up
Insurance of all types can be canceled ahead of its expiration date and any remaining premium refunded, but you have to follow the exact requirements laid out in your policy documents. This will usually include:
How to notify the company
The required timeframe for notification
Where to send the insurance cancellation letter
How to request a refund
As we have outlined in our sample insurance cancellation letter, it is always a good idea to get a signed receipt acknowledgment of your cancellation for your protection in case there is ever a discrepancy. This will protect you and can be used in legal proceedings as evidence of receipt should that ever be an issue.
Once you've made the decision to explore your insurance options and before you select a new carrier, do some comparison shopping to get the best insurance rates available. On Einsurance.com, you can simply select the type of insurance you are looking for and follow the easy-to-navigate quote engine on the corresponding page.
Or simply call 1(844) 524-6505 to speak with a seasoned expert who can work with you to find the right coverage at the best price.
https://www.einsurance.com/wp-content/uploads/image-6.png
1035
1836
EINSURANCE
https://www.einsurance.com/wp-content/uploads/Logo.png
EINSURANCE
2021-08-30 11:00:00
2022-06-29 14:05:04
Canceling Your Insurance? Use Our Checklist and Insurance Sample Cancellation Letter