EINSURANCE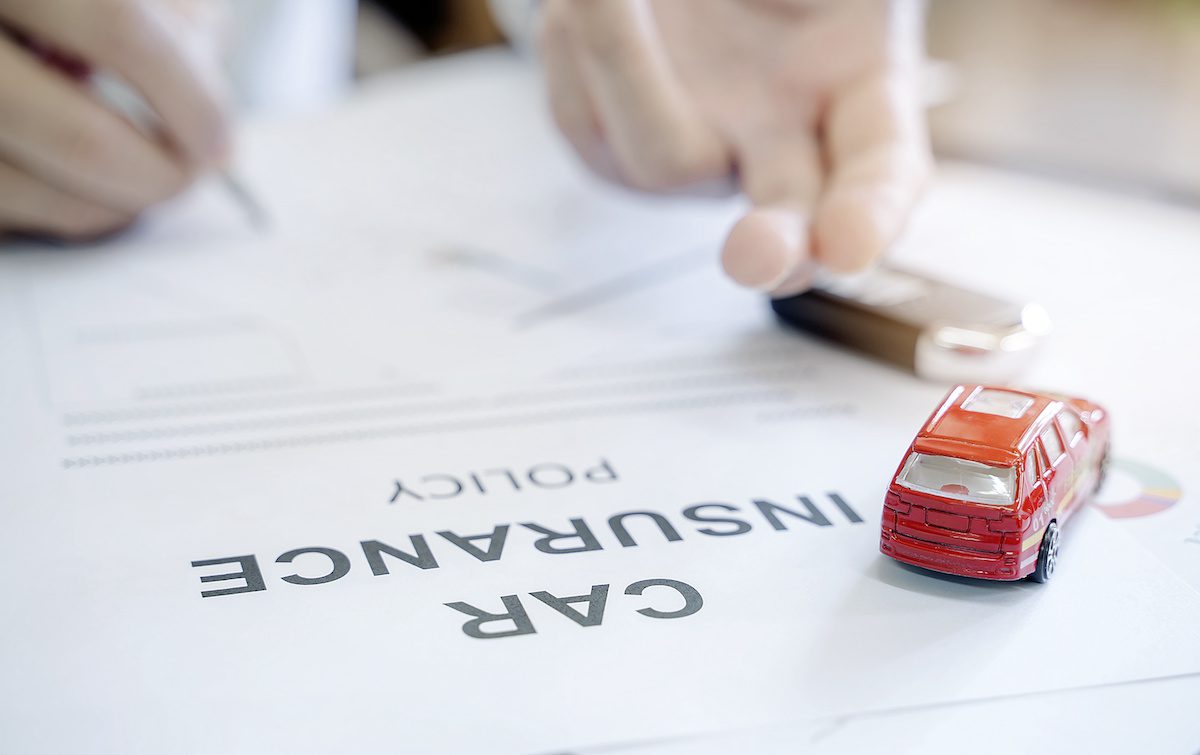 Key Takeaways:
Most states require you to carry bodily injury liability (or compulsory) coverage at a minimum.
Insurance experts recommend, at a minimum, $100,000 in bodily injury coverage and $300,000 in property damage coverage which is far more than most state-mandated limits.
When looking at liability car insurance coverage, remember to compare quotes to find the best price for your insurance policy.
You've probably heard of liability car insurance, but what is it exactly? How does it work? Is it different from 'full coverage' insurance?
To start, think of liability car insurance as the absolute minimum insurance you can have on a vehicle — the basic foundation. From there, you can build or add layers of additional coverage based on your needs or obligations to your bank or lienholder which generally require full coverage.
Full coverage takes the base of liability car insurance and layers on collision coverage, comprehensive coverage, and medical payments coverage. These components provide coverage for your car if there is a collision, as well as when your car is damaged because of hail, fire, flood, vandalism, or theft, or falling objects. Liability car insurancedoes not cover these things.
There are circumstances where you may want to carry the limited liability insurance, such as if you have an older car without much resale value. Be sure you understand what that means and educate yourself on the coverage limits best suited for your circumstances.
Let's jump in…
Are You Required to Carry Liability Car Insurance?
At a bare minimum, most states require you to carry bodily injury liability (or compulsory) coverage and each state has different limits for coverage that you can find here. The lone holdout is New Hampshire where you don't have to legally carry insurance, but you do have to be able to show proof of financial responsibility through a cash deposit, surety bond, or government bond.
The reason for this is simple. If you are in an accident where you cause damage to another person's property, your liability (or, more simply, your responsibility), is to be able to pay for the damage you caused. This can include injuries sustained by the driver or their passengers as well as any damage to the car or property.
You may choose to carry additional comprehensive and collision coverage that will cover your vehicle, but you are always required to carry the minimum 'bodily injury and property damage' insurance or liability car insurance.
What is Liability Car Insurance?
This type of car insurance includes two basic components:  1) bodily injury liability coverage, and 2) property damage liability coverage.
Bodily Injury Liability Coverage
If you're in an accident where there are injuries and you are found to be at fault, bodily injury liability coverage pays for medical expenses up to your coverage limits. Without this type of coverage, you would be responsible for the costs out of your own pocket. This type of coverage may entail:
Medical bills from physicians, hospitals, and rehabilitation
Prescriptions
Lost wages
Pain and suffering
Personal Damage Liability Coverage
If the accident damages someone else's car or property, property damage liability coverage will help you pay for the repairs. So if you get into a collision with another vehicle or hit a fence or other property causing damage, your insurance will help defray the costs.
This type of coverage does not cover you or your car in the event of an accident which is why this coverage only makes sense if you have an older car that doesn't have much resale value. Without liability coverage, the costs to pay for medical care or repair/replacement of property could be catastrophic leaving you in a financially vulnerable situation.
How Much Coverage Should I Purchase?
When it comes to purchasing liability insurance, your coverage limits are often quoted like this:  50/100/50. Read this as $50,000 in bodily injury liability per person/$100,000 in bodily injury per accident/$50,000 in property damage coverage (and is often the minimum states will require).
Insurance experts frequently recommend that you carry a minimum of $100,000 in bodily injury coverage and $300,000 in property damage coverage, or 100/300/100, with a supplementary rider for uninsured motorist coverage. These limits would protect you in the event of an at-fault accident or when an uninsured motorist is involved. And remember, as of 2021, about 16% of all drivers in the US are uninsured.
How Can I Find Cheap Liability Car Insurance?
Liability car insurance is far cheaper than full coverage insurance. In fact, the experts at Value Penguin found that liability-only insurance costs 63% less on average than a full coverage policy. However, keep in mind that a liability-only policy won't cover the following things:
When you are at fault in an accident
If you are the victim of a hit and run accident
If your car is damaged by hail, fire, or weather catastrophes
If your car is vandalized or stolen
So it's important to evaluate the Actual Cash Value (ACV) of your vehicle and your risk tolerance when assessing liability vs. full coverage insurance. You may love that old beat-up 'classic', but if the actual cash value is a total of $1,500, then it may not be worth spending $2,500 per year to insure it at full coverage.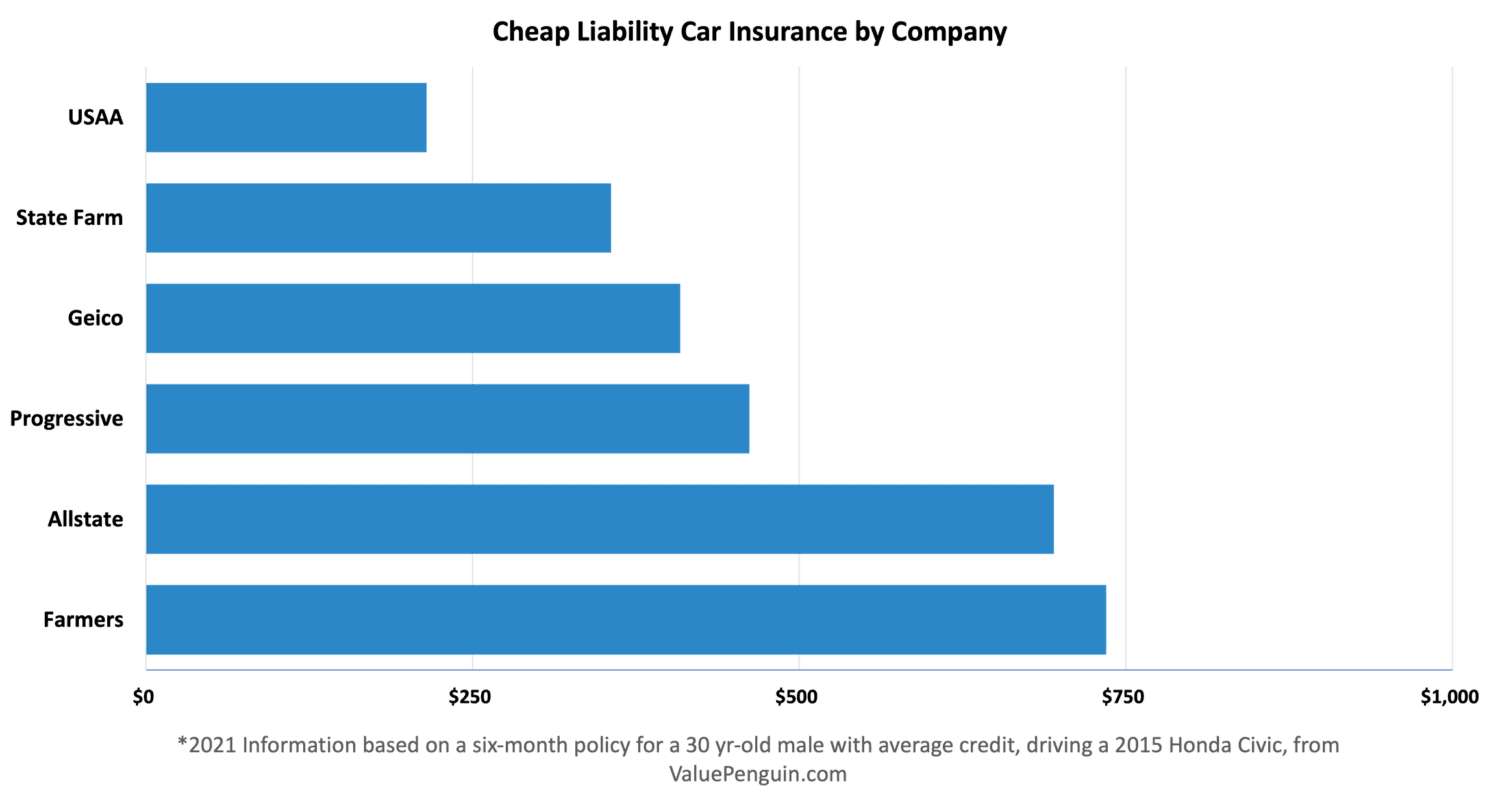 At this point, it's important to get comparative quotes from competing insurance companies to find the best-priced policy with the most features. The Einsurance quote engine takes a couple of pieces of your personal information to determine the best companies with the cheapest rates and delivers them to you for your evaluation.
Finding the Best Liability Car Insurance Coverage
When you are shopping around and comparing quotes, be sure that you have your personal and financial details in good order. Insurance companies want to work with individuals that have demonstrated solid life choices and they do that by evaluating your history in comparison with others through actuarial tables.
People with the best personal story to tell get the best rates, including:
Good driving record — A solid history of good driving with few to no infractions, like speeding tickets, accidents, or other moving violations, demonstrates a careful and safe individual who is likely to continue to exhibit these traits into the future. Insurance companies want to see that you take your driving responsibilities seriously and a clean driving record is a great way to show that.
Good credit history — Your credit score and credit history are your personal calling card for all kinds of business situations where a company is deciding if they want to do business with you or not. From insurance to mortgage and rental companies to your smartphone carrier, people are looking at your credit report to see if you have demonstrated how deftly you handle your financial business or if there are problems.
Age — As you get older, insurance companies see you as less impulsive and more careful and reward you with better rates.
Education — The higher the education level that you have completed, the more responsible you are seen by insurance companies. A bachelor's degree is good, but graduate work or a Ph.D. is better.
Occupation — Like education, the more responsible your job is the better your insurance rates will likely be.
Gender — Females often pay less for insurance coverage than men, especially when you compare younger people, but it can also depend on the insurance company. On average, females between the ages of 16 and 24, generally pay about 15% less per year than their male counterparts.
Marital Status — Being married gets you better tax rates and better insurance rates – it's just how things work. Insurance carriers find that married people are more settled and safer than their single counterparts and are rewarded with better coverage rates.
Zip Code — Your zip code tells insurance companies a lot, from the level of crime in the area to the weather patterns and outlying storms happening more frequently. Now liability car insurance shouldn't be affected by that since they aren't insuring your vehicle against damage, but pricing is often specific to the area regardless of the type of coverage.
Getting Quotes on Liability Car Insurance
It's important to compare quotes on every type of car insurance. In fact, it should be done every year or two to make sure that you are paying the best price on your car insurance.
Today, it's especially easy with access to the advanced automation of a quote engine that compares rates among top insurance companies and returns to you the best options and prices.
Additional Ways to Save Money
To look even further for cost savings, be sure you are getting every discount that you are eligible for – here are some choices and discounts to ask about as you evaluate new companies, and your chosen company may have even more.
Raise Your Deductible
Be sure you know what deductible you have on your policy. There may be an opportunity to raise the deductible and save considerable money. For example, if you have a zero or $250 deductible, consider increasing that to $500 or $1,000.
Just remember, it's important that you have the deductible amount available in liquid cash so that if something should happen you have access to the funds fairly quickly.
Evaluate Your Commute
Things have changed over the last year with COVID-19 and a lot of people are working from home as a matter of routine now. If this change has affected you, be sure you take that into account when looking for liability car insurance. Your commute may be far less now and could positively impact your pricing.
Ask About Discounts
Insurance companies are great at molding behavior by offering discounts. No other industry is as practiced at offering discounts for desirable behaviors, so take advantage of every discount you can, including (but not limited to):
Multi-policy and multi-car discounts — While you are securing your liability car insurance, think about tacking on homeowners' insurance or insurance for that second car, motorcycle, or RV, to score a lower overall rate.
Good student discounts — Good student discounts allow you or your student to get better insurance rates through getting and keeping good grades in high school and college. Most of the large insurance companies use a 3.0 GPA or a B average as their minimum.
Defensive driving course discounts — Taking a defensive driving course is a good way to get a discount on liability car insurance, especially for seniors. Classes are offered nationally through AARP and can be done online too.
Auto-pay discounts — Most insurance companies offer discounts when you sign up for autopay.
So is Liability Car Insurance the Right Choice for You?
With an average lifespan of 11.8 years, cars are running longer with fewer problems according to IHS Markit. So it stands to reason that there are more people considering liability car insurance as a way to insure their vehicles. If you find yourself with an older car that has a reduced ACV, cheap liability car insurance may be a great solution.
Just remember to carry limits that make sense for you and your lifestyle (typically far more than the state-mandated limits) and be sure to shop around for the best quote on liability car insurance before settling on one company.
With bodily injury liability coverage and property damage liability coverage, you should, with the right coverage limits, be adequately protected to cover damage to the other car and any medical treatment necessary. You will, however, be without a vehicle if yours is inoperable or in the repair shop. Something to keep in mind too.
Try our Einsurance.com quote engine to see the best options for your liability car insurance.
https://www.einsurance.com/wp-content/uploads/liability-car-insurance.jpeg
755
1200
EINSURANCE
https://www.einsurance.com/wp-content/uploads/Logo.png
EINSURANCE
2021-09-09 11:00:26
2021-09-03 09:53:28
Liability Car Insurance – What You Need to Know