EINSURANCE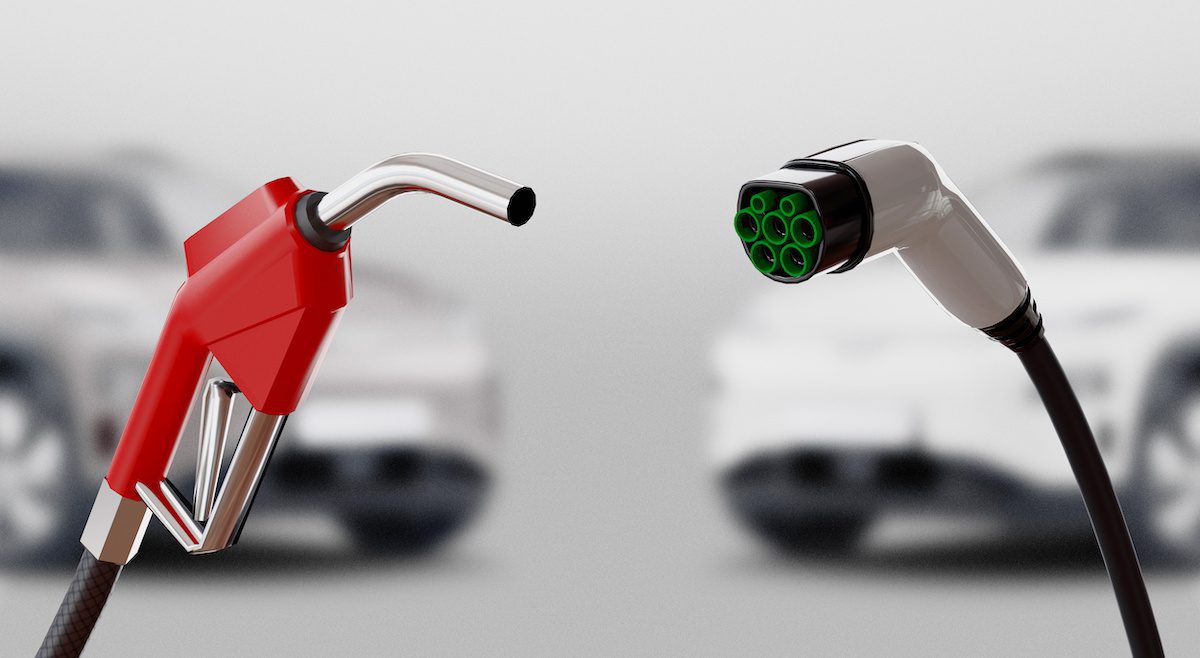 Key Takeaways:
Hybrid car insurance is often more expensive than gas-only vehicle insurance but is also dependent on various factors like the cost of the vehicle and your personal driving record.
There are still ways to save money and take advantage of discount opportunities, including 'green vehicle' discounts, when buying hybrid auto insurance.
The best way to save money on hybrid car insurance is to do a little research and shop around for the best price.

Hybrids vs. Gas-Only Cars
Hybrid car sales took off in 2021 with over 800,000 models sold according to the Bureau of Transportation Statistics. While they still account for around 5% of the total vehicles sold, that's a 38% jump in sales.
To clarify the difference in vehicles sold today:
Hybrid Cars are powered by an electric motor and supported by an internal combustion engine (ICE). The battery is charged through regenerative braking, as well as the ICE. They are not plugged in to recharge.
Gas-Only Cars are powered by an ICE alone using gasoline.
Electric Cars are powered by battery-powered electric motor which must be recharged. There is no support from an ICE and no use of gasoline.
Both hybrid cars and electric cars have a lower environmental impact but have higher purchase prices and maintenance/repair costs, different driving ranges, and potential challenges for refueling and charging.
When we look at hybrid vs gas car insurance, we start to see a pattern that concludes with higher insurance prices for hybrid cars. Let's take a closer look.
Are Hybrids More Expensive to Insure?
Yes, hybrid car insurance rates tend to be higher, as much as 7% higher according to PRWeb. And the reasons, detailed below, don't seem to be changing any time soon.
However, there are a variety of factors that impact any car insurance and discounts that could be used to lower your annual car insurance. We'll take a look at how everything from your driving record to your credit score impacts what you pay. We'll also explore the discounts available through most insurance companies.
Why Are Hybrid Car Insurance Costs Higher?
Insurance companies base their pricing on a variety of factors relating to each customer personally, but they also keep massive databases filled with statistics about every vehicle imaginable. Since 1999, when the first hybrids started selling in the U.S., hybrid car insurance has been higher based on some of these facts:
Hybrid Cars Cost More Than Their Gas-Only Counterparts
On average, hybrid cars cost 17% more than their direct counterparts. For example, Honda Accord and Toyota Camry each have an ICE model and a hybrid model, and the higher price is reflected in each of the hybrid models.
The price tag is justified when you realize that there are more moving parts, bigger and more elaborate battery systems (and battery materials), and highly specialized computer technology. And with a more expensive car – the higher the insurance costs to protect it.
Repairs and Replacement Parts Cost More
Hybrid cars are simply more expensive to repair. Their parts are more expensive, and the level of skill required by the mechanics is more extensive.
Insurance companies ensure that their premiums reflect this higher cost for repairing a hybrid car following an accident or theft.
Hybrid Cars are More Popular in Urban Areas
Hybrid cars tend to be more popular in large urban areas. And with large cities, comes more crime, highway driving, and long commutes. All these things increase the likelihood of problems, which in turn, increases the cost of car insurance due to the additional risk assumed by the insurance companies.
Quiet Vehicles Are Not Always Safer
The National Highway Traffic Safety Administration (NHTSA) has determined that hybrid cars are less safe due to how quiet they are, especially at slow speeds. This has led to an increase in bicycle and pedestrian accidents with hybrid vehicles.
In fact, the NHTSA made it mandatory in 2020 that all hybrid and electric cars be equipped with a sound device that emits a noise when traveling at a slow speed to alert the public of their presence.
Hybrid Cars Tend to Be Driven More
Because they use less gas and are better for the environment, hybrid car drivers tend to drive more, particularly during rush hour traffic and long distance commutes. More driving means more risk and higher insurance costs.
How Much Does It Cost to Insure a Hybrid Car?
If you own an expensive car, then you can expect to pay more for insurance coverage. Like all insurance, a variety of factors go into the price you pay for coverage. Things like the age of the car, the type of vehicle, and your driving experience can all impact the bottom line cost.
In addition, there are ways to score lower rates whether you drive a hybrid or an ICE vehicle.
Ways to Improve Your Hybrid Car Insurance Rates
Regardless of the type of hybrid car you drive, these are key things your insurance company will consider when determining your insurance rates. It's important to understand how you can positively impact your overall rates, so we include ideas to improve each.
1. Driving History 
From the first time you get a driver's license, you begin accumulating a driving record or driving history. Depending on the state where you live, there are different penalties for driving infractions, and different criteria for how long each ticket or conviction stays on your driving record.
For example, in New York state, accidents and most moving violations are displayed for three years, while DWI convictions are displayed for 15 years.
Consider these possible ways to improve your driving record:
Take a Defensive Driving Course through AAA, AARP, or another accredited group. Depending on your state's statutes, this can be submitted to the DMV to decrease the points you've been penalized.
Contest the Ticket — If there were mitigating circumstances, be sure to contest the ticket in traffic court.
Request Your Record be Expunged — Check with your DMV to see if they will remove convictions. You will be required to pay a fee and fill out some paperwork, but it may be worth the time and effort.
2. Make and Model You Buy
The make and model of car you buy will have an impact on your insurance rates. If you want to reduce your obligation, consider purchasing a less expensive car.
3. Whether You Rent or Own
If you are in the process of buying your first home or have recently purchased a new home, be sure to requote your insurance. Homeowners are looked at more favorably by insurance companies and you could possibly get a hefty break on your insurance costs.
4. Your Credit Score
Not only does your credit score impact getting a loan or a mortgage, but it can also impact your ability to get the best insurance for hybrid cars. Most insurance companies use a credit-based insurance score that factors in, among other things, your credit report and score.
If you don't know what your current credit score is, you are entitled to a free copy from each of the three credit agencies annually. From there, you can work to improve your score by reporting inaccuracies, repairing late payment issues, or managing your credit usage (e.g., reducing outstanding balances, etc.)
5. Where You Live
Where you live has a major impact on the insurance premiums you pay. Whether due to crime rates or major weather events in your area, you could be paying inflated rates for car insurance.
That doesn't mean you have to move just to lower your insurance rates, but if you are planning a move in the near future be sure to investigate the best areas in your new neighborhood.
6. Shop Around for a Better Price
It's always a good idea to shop around rather than just take the first product you come across. Especially today with the fast, straightforward access afforded by the internet – shopping for quotes has never been this easy.
7. Reduce the Number of Miles Driven
Since many hybrid car drivers tend to drive more, switch to something even more environment-friendly – mass transit! Cutting out the daily commute miles can help to reduce your annual premiums.
Also, if you have recently moved to a more remote work situation, be sure to shop for new insurance quotes with the new reduced mileage.
8. Increase Your Deductibles
Another good way to reduce your hybrid car insurance rates is to increase your deductibles. Going from $0 deductible to $500 or even $1,000 deductible can have a strong impact on your premiums.
9. Install Anti-Theft Devices
Most new hybrid cars come equipped with anti-theft devices. However, if your car doesn't have adequate anti-theft protection, consider adding some additional devices or solutions.
Once you make improvements, take the time to get a new quote on hybrid car insurance. Hopefully, you will be pleasantly surprised.
Is There a Hybrid Car Insurance Discount Available?
Sometimes called an 'alternative fuel auto discount' or a 'green vehicle discount,' many insurance companies offer a 5% to 10% annual discount on your hybrid car insurance costs. In addition to a green vehicle discount, you may be eligible for additional discounts.
Other Discounts to Lower Your Hybrid Car Insurance
Multi-Car Discount — Bundling your insurance policies with one company is a great way to capture the multi-policy discounts offered by more insurance companies. Home, car, RV, motorcycle, boat, and renters' insurance can all be bundled together at a discount.
Paying a Full Year in Advance — Insurance companies love to get their money up front (who doesn't?) and they are willing to pay a discount if you pay your insurance premium in full at the beginning of the policy term.
Auto Pay Discounts — When you sign up for auto pay, most insurance companies will provide a discount whether you use an electronic funds transfer (EFT) or a debit or credit card.
Paperless Discounts — Choosing to go paperless is another way to cut down on paper while also getting a discount. Opt into your insurance company's paperless system and you will receive all of your policies, billing, and insurance cards electronically while also saving money (and trees).
Loyalty Discounts — Insurance companies are motivated to keep your business and are willing to offer a discount to renew with them each year.
Good Driver Discounts — Be sure you are getting your maximum discount for being a good driver. Some companies offer additional discounts if you participate in an onboard diagnostic program where you install a monitoring device into your car. The device monitors driving habits, like speed and frequency of stopping.
Good Student Discounts — If you or your child are a student, most insurance companies offer a discount for good grades, usually a B or higher.
Getting Quotes on Hybrid Auto Insurance
Maybe you already have a hybrid car and just want to investigate pricing, or you're thinking about purchasing a new car and are curious about hybrid car insurance rates. Whatever the reason, it's important to do an annual review of your insurance to be sure you are getting the best insurance for hybrid cars.
Every insurance company is different, and rates can fluctuate from year to year. Additionally, your circumstances may have changed, so be proactive. You don't want to be paying more than you should, so take the time to visit a marketplace site, like einsurance.com, to review your hybrid auto insurance product. Once you are armed with the best choices you can evaluate your options and choose the best company for your needs.
https://www.einsurance.com/wp-content/uploads/is-hybrid-car-insurance-more-expensive.jpeg
658
1200
Kathryn Morstad
https://www.einsurance.com/wp-content/uploads/Logo.png
Kathryn Morstad
2022-08-25 11:00:20
2023-03-08 11:01:30
Is Hybrid Car Insurance More Expensive?