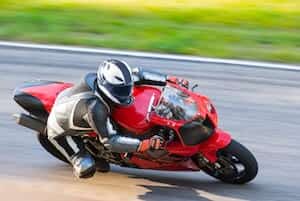 EINSURANCE
If you're considering a motorcycle purchase, be sure to include insurance in your cost estimating equation. Even though there are a few states – Montana, Washington and Florida – that don't require motorcycle insurance, if you get into an accident your costs to cover your liability could be crippling.
What does motorcycle insurance cover?
The 47 states that require motorcycle coverage also mandate coverage limits, which varies per state. But there are some policy options to consider:
Bodily Injury – Pays for medical expenses in the event you, your passenger or the other driver are injured. It also covers expenses resulting from a related death.
Uninsured or Underinsured Bodily Injury – This covers your medical costs if the other driver is at fault but without any or inadequate insurance coverage.
Collision – This covers damage to your motorcycle if you are at fault in an accident.
Property Damage – If there is damage to somebody else's property due to your bike, property damage insurance protects you.
Personal Injury Protection – PIP covers lost income, hospitalization and other expenses due to an accident.
Comprehensive Coverage – If your bike incurs damages from an event other than a collision, such as floods, fire or theft for example, comprehensive insurance pays for repairs or replacement.
High Risk Coverage – Also known as SR-22, this certificate may be required by the Department of Motor Vehicles (DMV) if you are considered a high risk. An SR-22 may be required for several years following a violation of driving without insurance, with a suspended license or under the influence (DUI).
How much motorcycle insurance coverage do you need?
The amount of insurance you are required to purchase varies from state to state. Each state requires minimum coverage for bodily injury and property damage. For example, a state might demand that you have at least $30,000 in bodily injury or death coverage for of a single person, $60,000 for an accident where two or more are injured or die, and $25,000 to pay for personal property damages. This coverage would be described as 30/60/25.
To find out what motorcycle insurance minimum requirements are in your state, use this interactive tool on dmv.org.
How much does motorcycle insurance cost?
The average cost of motorcycle insurance in the United States for 2017 is $519, but annual rate averages vary by each individual state. Insurance providers take many factors into account. You'll pay more in a city where there's more traffic, for instance. Other factors that help determine motorcycle insurance rate include your age, accident history and the size of your motorcycle's engine.
If you want to save money, you can:
Bundle your motorcycle insurance wit home, renters and/or auto insurance.
Join a motorcycle group.
Take a motorcycle safety class.
Purchase an older model or one with a smaller engine.
Add safety features to your motorcycle.
One of the most important things you can do to make sure you're getting a good rate on motorcycle insurance is to compare coverage and costs. You can use the Einsurance comparison tool to find the best policy for you.
https://www.einsurance.com/wp-content/uploads/all-about-motorcycle-insurance-thumbnail.jpg
201
300
EINSURANCE
https://www.einsurance.com/wp-content/uploads/Logo.png
EINSURANCE
2017-06-21 00:00:00
2019-01-25 15:35:39
The In's and Out's of Motorcycle Insurance