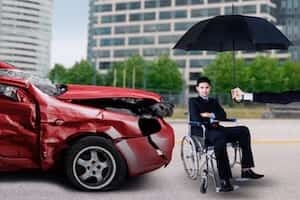 EINSURANCE
Think of personal injury Protection (PIP) as sort of a "get home free" extension of auto insurance. It is no-fault coverage that pays out no matter who is at fault in a car accident. PIP goes above and beyond standard auto insurance to help cover medical costs and more.
What Personal Injury Protection Insurance Covers?
While standard auto liability insurance of the at-fault driver pays costs incurred by the accident, PIP covers some of the additional medical expenses of the policy holder.  PIP can also cover anyone else in the car at the time of the accident.
PIP coverage details vary from state to state, and some states require PIP insurance. Depending on the limits of the policy, PIP may cover a variety of expenses including:
Loss of income – PIP can help make up for lost wages resulting from an accident.
Loss of services – Coverage helps pay for associated service costs if you're laid up, such as child care, transporting your children to school, and grocery shopping and delivery.
Rehabilitation – You are covered should you need rehab following an accident.
Funeral expenses – In a worst-case scenario, PIP can help offset funeral costs.
The Benefits You Receive from PIP
Following an accident without PIP, insurance providers must take time to decide who is to blame. The at-fault driver's insurance company will then make payments. A provider may file a lawsuit, which slows things down even further. With PIP's no-fault coverage, your medical, lost income and other expenses will be paid faster. Plus, you're only having to deal with your provider, not the other driver's as well.
Is PIP Right for You?
If you live in a state that requires personal injury selection, you must meet those standards. Before purchasing PIP when it's not required, you should take a look at your needs and budget. Try to estimate how much coverage you'd need following an injury in a car accident. What if you can't but must still support your family? How much are you currently paying for things like child care and other services?
PIP is required in some areas, including the states of Florida, Hawaii, Kansas, Kentucky, Massachusetts, Michigan, Minnesota, New Jersey, New York, North Dakota, Pennsylvania and Utah as well as in the District of Columbia.
If you're interested in purchasing PIP coverage, learn more about your insurance options and compare rates. Although personal injury protection adds to the cost of an auto policy, it can be well worth the expense.
https://www.einsurance.com/wp-content/uploads/what-is-personal-injury-protection-and-what-does-it-cover-thumbnail.jpg
200
300
EINSURANCE
https://www.einsurance.com/wp-content/uploads/Logo.png
EINSURANCE
2017-05-17 00:00:00
2023-01-25 14:53:38
What Is Personal Injury Protection Insurance and What Does It Cover?