EINSURANCE

What You Should Know About Mobile Home Insurance
Like a typical homeowners insurance policy, mobile or manufactured home insurance can protect you if your home is damaged. It's not required by law, but it's a wise purchase, and mortgage companies and mobile home communities usually always require you to have such coverage.
Note that Manufactured Home Construction Standards were established by HUD in 1976; homes built after June of that year are technically identified as manufactured homes while homes built prior to that are called mobile homes. For the purpose of this article "mobile home" is used to refer to both.
Why Should I Buy Mobile Home Insurance?
Mobile homes are inherently more vulnerable than standard homes, and don't qualify for traditional home insurance coverage. Mobile home coverage can save you a lot of money in the event the home requires repairs due to covered damages.
What Does Mobile Home Insurance Cover?
Similar to regular homeowners insurance, mobile home insurance includes key coverages.
Home Coverage
Covers your mobile home to help with the cost of repairs or rebuilding from damaging events such as:
Wind and hail
Ice and snow
Vandalism
Wild or stray animals
Falling objects such as a tree that falls on your home
Water that leaks or floods due to bursting pipes
Landslides
Personal Property Coverage
If your personal belongings in the mobile home are damaged or stolen, you're covered. Consider buying high enough insurance in case your home has to be replaced completely. These belongings might be furniture or electronics, for example. You'll want to take inventory of your belongings and calculate their value. With personal property coverage, be prepared to pay a deductible.
Liability Coverage
Liability insurance kicks in when somebody is injured because of your property. This could be someone walking by who is hurt when a tree on your property falls. The insurance will cover legal fees if you're found liable.
Other Coverages
If you have permanent structures on your property that aren't attached to your home, such as a garage or storage shed, check to see if your mobile home insurance includes coverage for permanent structures.
If the mobile home is damaged and the loss is covered, your policy will pay for the cost of staying in a hotel until your home is repaired, up to your coverage limit.
How Much Does a New Mobile Home Cost?
If you want to buy a mobile home, you can rest-assured it probably costs substantially less than a standard home. According to moving.com, the average 2018 price nationwide for a new mobile home breaks down into three categories:
Single wide: $51,371
Double wide: $96,529
Triple or multi wide: $100,000 to $250,000
As you can probably imagine, mobile home pricing varies according to where you live. Do you live in the Midwest or South? Mobile homes are less expensive. You can expect to pay more for a mobile home in Western states. The time of year you buy also makes a difference, with prices lower in late winter.
What Are the Benefits of Buying a Brand-New Mobile Home?
Of course, buying a used mobile home is cheaper, but buying new has some attractive benefits.
Property taxes are lower for a new mobile home, because its considered personal property, versus a used and already built onsite mobile home, which is classified as real estate property.
Newer models are safer than they used to be, thanks to HUD which created codes in the late 1970s.
Like new single-family homes, a new motor home can be customizable.
Factory-built mobile homes are assembled quickly, so you don't have to wait as long as you would for a new-build regular home.
How Much Does Mobile Home Insurance Cost?
Mobile home insurance costs anywhere from $250 to $1,300 per year, depending on where you live, cost of mobile home, the kind of coverages you choose, insurance limits, your deductible, and how old your mobile home is.
The chart below shows annual mobile home insurance premiums based on a variety of coverage limits for a mobile home in Texas.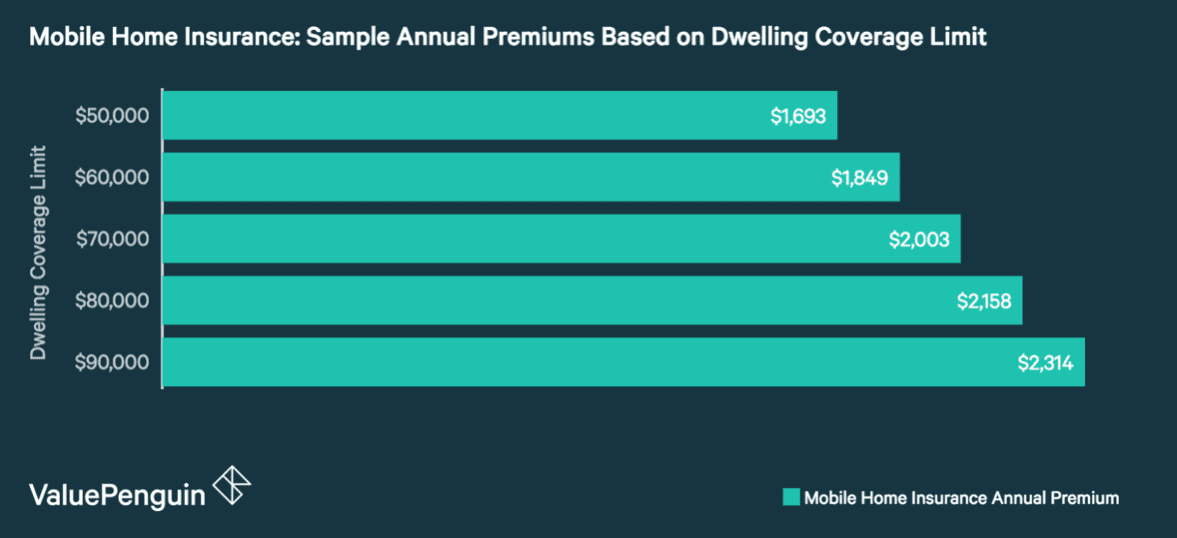 How About the Cost of Insurance for an Older Mobile Home?
With an older mobile home, not all insurance companies offer coverage and if they do it can be costly. Note that Manufactured Home Construction Standards were established by HUD in 1976; homes built after June of that year are technically identified as manufactured homes while homes built prior to that are called mobile homes.
Don't Confuse "Manufactured Home" with "Modular Home"
There's another kind of manufactured, or mobile, home: it's the modular home. Mobile home and modular home insurance are two different kinds of insurance coverage. They are both factory-built, but are distinctly different types of homes.
Construction
Mobile homes are usually built on a metal frame. Modular homes are generally built on top of a basement or crawl space.
Delivery
Mobile homes are taken to the property in a single piece, while modular homes often arrive in multiple pieces.
End Product
Mobile homes feature a foundation of metal devices that tie to the ground. Conversely, modular homes look more like single-family homes.
When trying to confirm whether a home is a mobile (manufactured) home or a modular home, look for the HUD tag, a metal plate attached to the outside of the home. If that doesn't work for you, one of your insurance provider candidates can help you make the determination.
How to Buy Mobile Home Insurance
Not every insurance provider offers mobile home insurance, so you'll need to look around. Rates also vary. Be sure to equate apples to oranges by comparing several insurer's quotes based on the same information. One of the easiest ways to start is to get quotes online. Einsurance provides helpful information and a quote generation tool here.
https://www.einsurance.com/wp-content/uploads/what-to-know-about-mobile-home-insurance-scaled.jpeg
1709
2560
EINSURANCE
https://www.einsurance.com/wp-content/uploads/Logo.png
EINSURANCE
2019-12-26 11:00:45
2023-03-24 10:17:52
What to Know About Mobile Home Insurance?